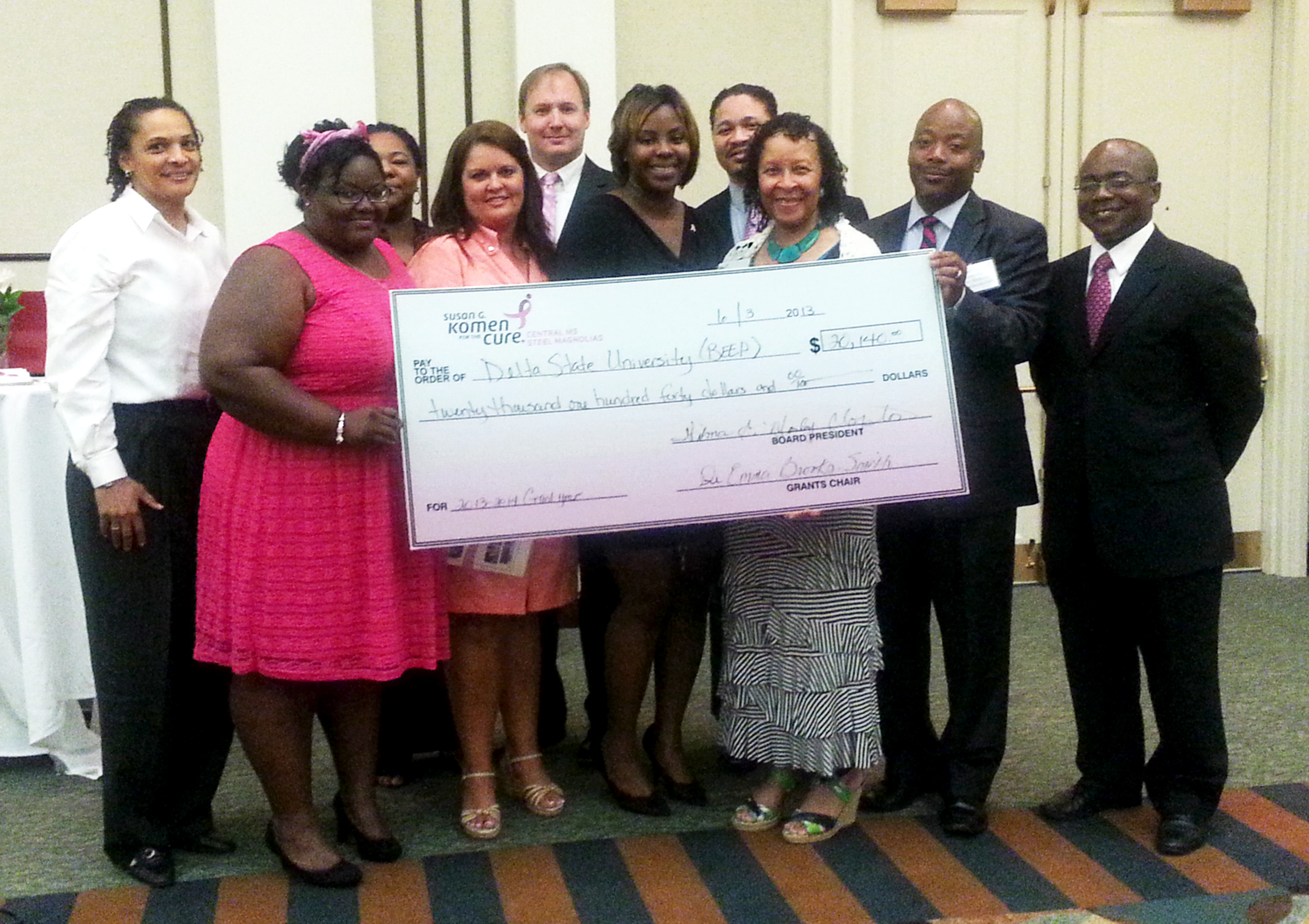 The Susan G. Komen Central Mississippi Steel Magnolia Affiliates recently presented the Delta State University Center for Community and Economic Development's Breast Education and Early-detection Project (B.E.E.P.) a check in the amount of $40,280 at the Grantee Presentation Reception on June 3.

"This award will help us to continue to serve the breast health needs of women in our communities who are low income and medically underserved. The need is prevalent among our female residents and we will continue to work on implementing a plan to improve health outcomes and to serve individuals that cannot receive medical care," said Alfreda Cowins, B.E.E.P 's Program Coordinator.
The reception highlighted the great work done by the grantee for helping create a community of awareness for early detection. B.E.E.P was recognized by Dr. Adrian Smith from Plastic & Hand Surgery for their outstanding efforts at the "I am the Cure" event in Greenwood.
Since its inception, the Central Mississippi Affiliate has granted out over $1.5 million dollars. Seventy-five percent of funds received by the Affiliate stay in the Central Mississippi service area and are granted out to provide education and free screening mammograms for the underinsured and uninsured. Twenty-five percent goes to the National Susan G. Komen Organization to fund groundbreaking research to find the cures for breast cancer.
For more information about this event or other upcoming events hosted by the affiliate please contact Central MS Steel Magnolia Affiliates at (866)475-6636 or visit the website at www.komencentralms.org.
The grant money received, will help B.E.E.P continue to make an impact in the Mississippi Delta. Currently, the Breast Education and Early-detection Project has hosted 183 workshops in the community to educate individuals about their breast health and recruit applicants for screenings and has implemented a comprehensive health program on breast care for low-income women. The program has distributed breast health education materials and literature to 13,284 individuals at local health fairs, program sponsored events, workshops and community sponsored events.
The mission for the Breast Education and Early-detection Project is to "Eradicate breast cancer as a life-threatening disease through provision of innovative and creative approaches in teaching breast cancer awareness and prevention to women within the Bolivar and Washington County communities who have limited access to preventive care." The project will focus on increasing the number of women who adopt early cancer detection methods such as monthly breast exams and mammograms. Early detection of breast cancer gives women the best chance for treatment and survival.
During 2013–2014, fifty women who are eligible and meet the program's eligibility criteria's will be selected as participants. Applications may be requested for the program at the Center for Community and Economic Development in Cleveland or from Delta Health Center in Mound Bayou.
For more information about the B.E.E.P Program or to see if you qualify for a free breast health screening please contact Alfreda Cowins, B.E.E.P Program Coordinator at (662) 846-4863 or (662)846-4008.