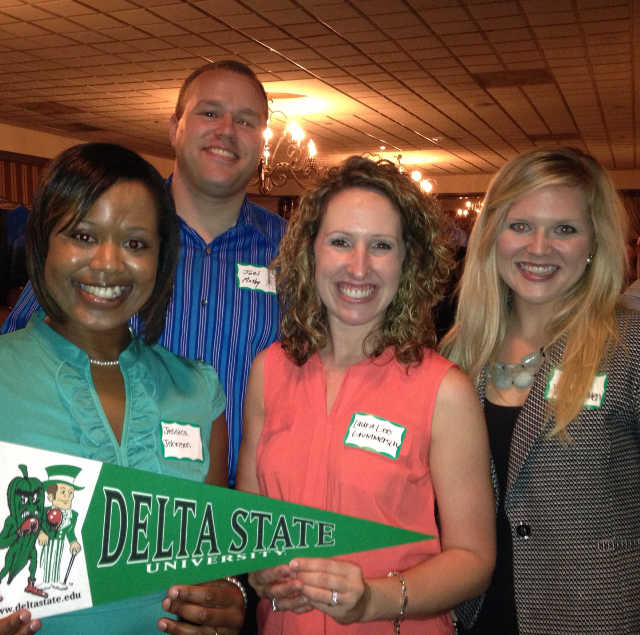 The Delta State University National Alumni Association recently traveled to Memphis for the annual Memphis Alumni Chapter Meeting. The meeting was held at the Crescent Club, which is located in the Crescent Center. With over 100 people in attendance, this was the largest Memphis Chapter Meeting.
"My goal for this event was to double the size of last year's meeting," said Jessica Johnson, who just completed her two-year term as chapter president. "Thanks to everyone here tonight, we more than accomplished that goal. It is so great to see so many people here all in the name of Delta State."
Several guests from campus were in attendance including Director of Athletics Ronnie Mayers, Dean of Enrollment Services Debbie Heslep, Director of Recruiting Chris Gaines, Admissions Recruiter Angela Carter, Assistant Athletic Director for External Affairs Matt Jones, Assistant Coordinator of Game Day Operations Jim Ervin, Instructor of Insurance and Coordinator of CFP Program Dr. Jim Brown, Executive Director of Alumni-Foundation Keith Fulcher, Chief Development Officer Gary Bouse, Director of Donor Relations Ann Giger, Professor and Chair Emeritus Department of Physical Sciences Dr. Henry Outlaw, Assistant Professor Emeritus of Health, Physical Education and Recreation Dave Heflin, Director Emeritus of Alumni Affairs Vicki Fioranelli, Director of Career Services Davlon Miller, Head Men's Basketball Coach Jim Boone, Assistant Men's Basketball Coach Chris Richardson, Head Baseball Coach Mike Kinnison, Vice President of the Student Government Association Alex Crosby, and President of the National Alumni Association Richard Myers.
The event was presented by the Alumni Association staff, Jeffrey Farris, director of Alumni Affairs, and Jordan Thomas, assistant director of Alumni Affairs, and the featured guest was President William N. LaForge who spoke to the crowd about Delta State's current standing. The meeting concluded with the announcement of the new Memphis officers: Joel Mosby, president; Laura Lee Grommersch, vice president; Kate Kinnison Van Namen, secretary/treasurer.