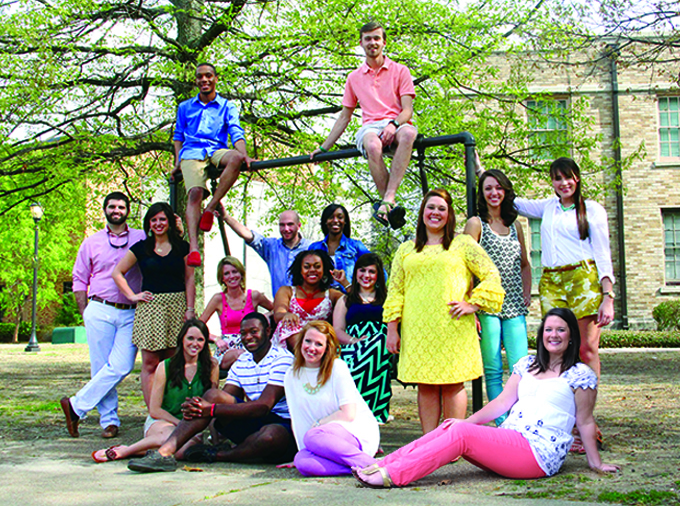 Orientation leaders at Delta State University have been preparing for nearly 1,000 attendants at this year's summer sessions.

This group of student leaders was trained through a spring semester course to lead the incoming students and their parents. The course covered everything from academics, campus services, university history, facilities, student life, and more. The orientation leaders chose this year's playful theme and developed a supporting skit to perform during each session.

"The theme for this year is 'Family Feud – Statesman versus Okra'," said Madison Greenlee, orientation leader, "It is going to be a lot of fun. Hopefully, everyone will enjoy the skit, especially the ending!"
There will be appearances by the Okra, Statesman, and President LaForge to enhance the theme's spirit of a friendly mascot competition. Department chairs representing numerous areas on campus will address parents while the orientation leaders will speak to groups of students.

The orientation team works closely with many departments on campus. They are under the leadership of Elsie Lynn Ervin, director of student life/orientation and assistant to the vice president for student affairs, Wayne Blansett. The group is headed by Student Director Shelby McIntire and Assistant Student Director Amy Scott.
"They are both returning orientation leaders with the experience and passion for Delta State to make these sessions an exciting time for our new students," said Ervin.
"It is so exciting and is going to be a great summer because we have been working really hard since January 2013 to assist the incoming students for successful years at Delta State," said Assistant Director Scott.
Student Director McIntire said, "Being a returning orientation leader has helped me to use my previous experience to help lead the new orientation leaders as the student director. Our goal is to sell Delta State University by showing them why we all love it so much."
The goal of orientation is to familiarize incoming students and their parents with Delta State's policies and procedures and to introduce them to campus life where their peers, professors, and mentors are always here to help.
"Georgene Clarke, assistant professor of English and Coordinator of Composition, will give students tips on faculty expectations, classroom success, study behaviors, and more, while Clint Wood, Professor and Department Chair of Accounting, CIS, and Finance, will advise parents on ways to help their student prepare for and be successful in college. He will also give them reminders or advice on being a parent of a new student. Clarke and Wood do an amazing job of preparing the students and parents on being academically successful at Delta State. They cover all of the areas that the faculty need presented before the students and parents even arrive to embark on their academic journey here at Delta State," said Ervin.
The dates for freshman orientation are June 13-14, June 20-21, and July 11-13, and transfer students will attend on June 18 and July 16. Numerous applications are received every day, so reserve a spot in a session today at orientation.deltastate.edu.
For more information about Delta State orientation, please contact Elsie Lynn Ervin at 662-846-4666 or elervin@deltastate.edu.
.