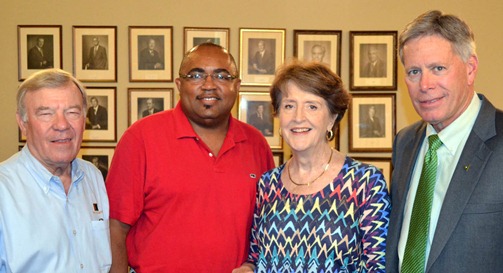 Delta State President William N. LaForge attended the Cleveland-Bolivar County Chamber of Commerce Board of Directors meeting last week to discuss upcoming events. As president of Delta State, LaForge is granted an ex-officio seat on the Board.
The group discussed the arrival of Teach For America Delta Institute guests and the community celebration scheduled for July 3. President LaForge and the Board also anticipate activities for the GRAMMY? Museum Mississippi.
Delta State closely collaborates with the Chamber to build a strong relationship between the campus community and the Cleveland businesses, residents, and economy. Chamber Executive Director Judson Thigpen III discusses the importance of the partnership.
"The membership of the Chamber recognizes the tremendous value of having a university town. It is safe to say that we wouldn't have the quality of life here if it weren't for the many amenities that Delta State provides," said Thigpen. "We are blessed with educational, cultural, athletic and other opportunities because of their presence. It is important for us to feel the pulse of the university and for them to feel the pulse of Cleveland and Bolivar County."
For more information on Delta State, visit www.deltastate.edu. To find out more about the Cleveland-Bolivar County Chamber of Commerce, visit www.clevelandmschamber.com/.