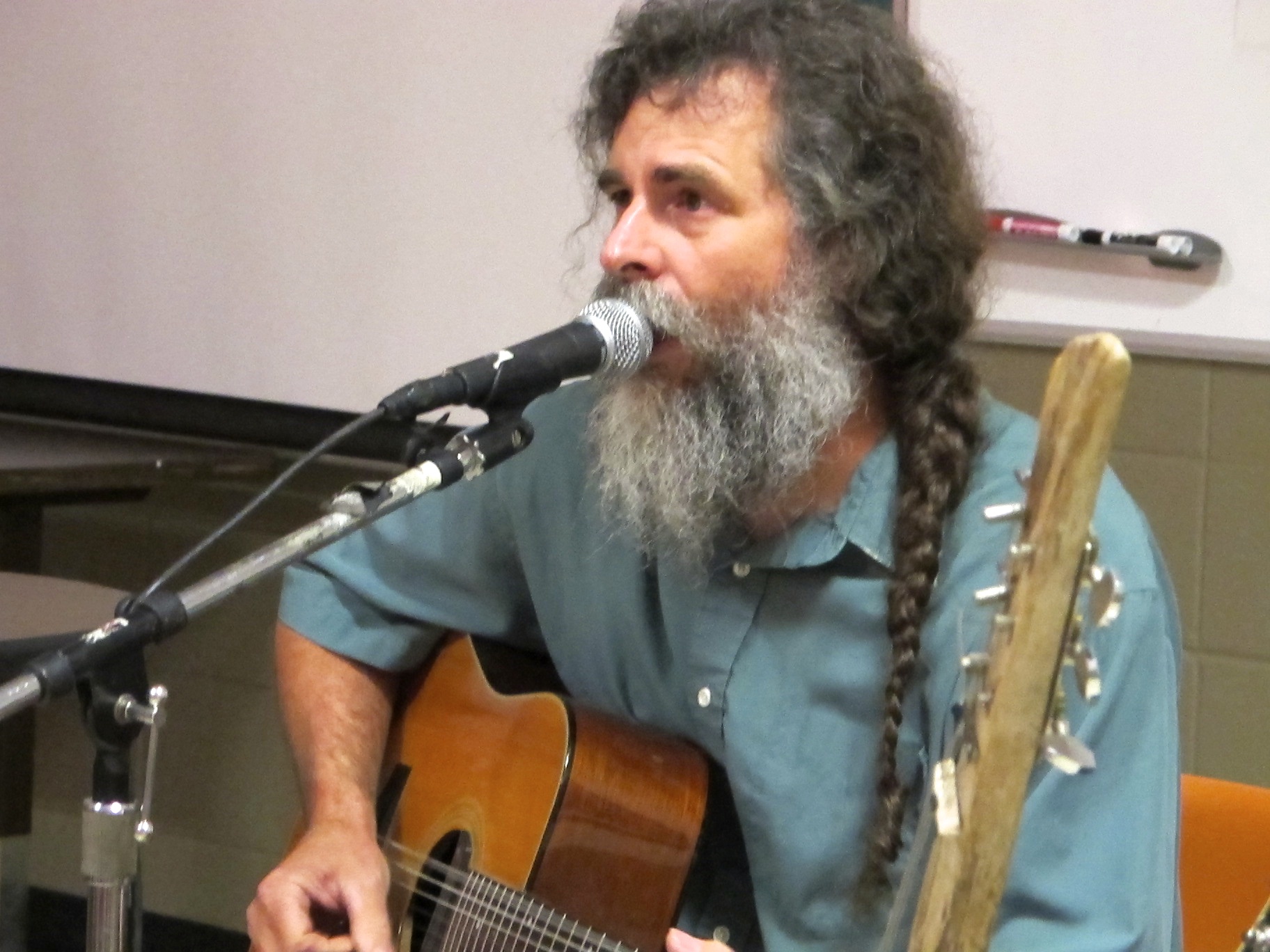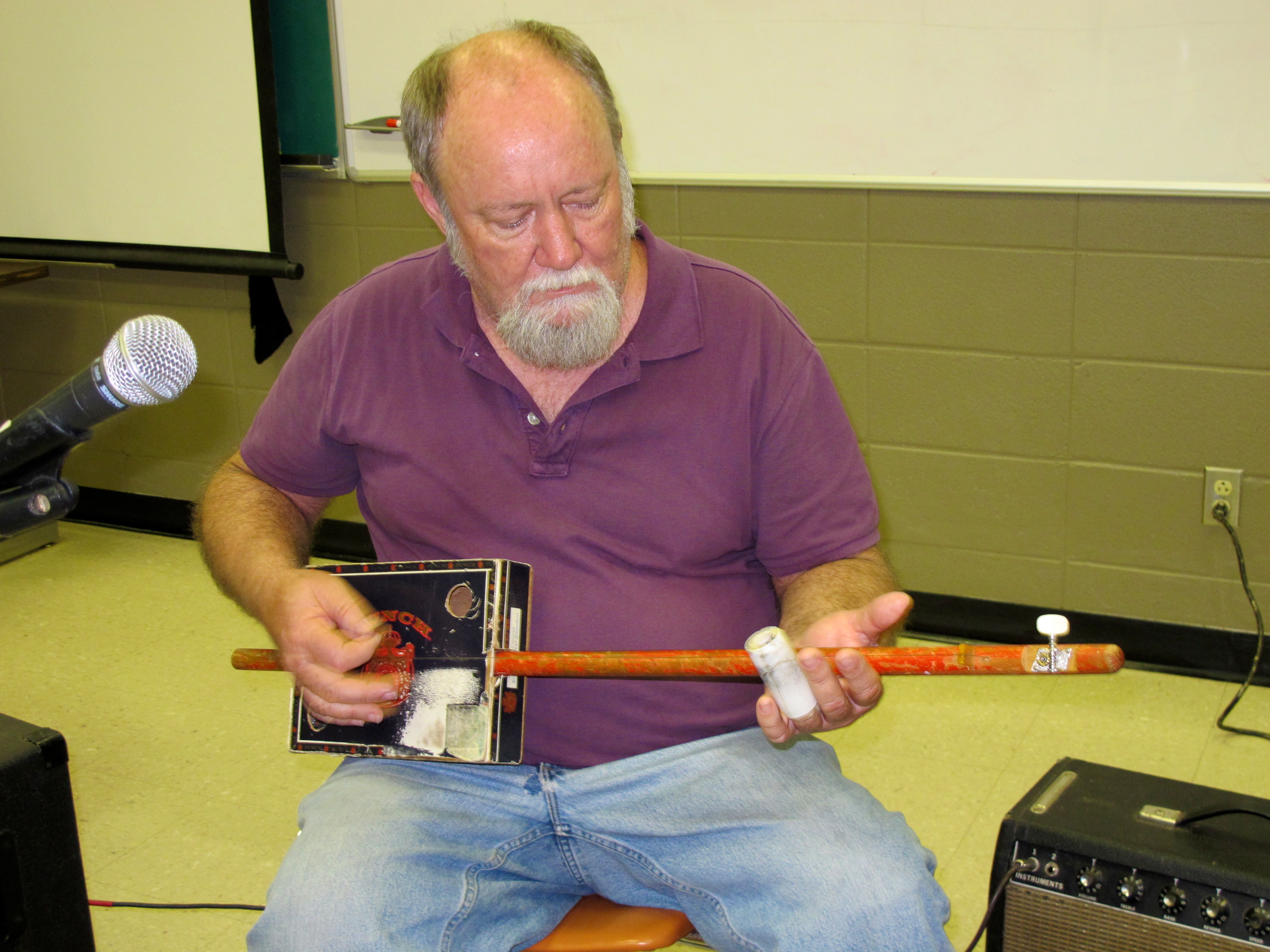 The Delta Center for Culture and Learning at Delta State recently hosted a workshop called "The Most Southern Place on Earth: Music, History and Culture of the Mississippi Delta" workshop. The workshop is held twice a year by the Center, with major funding from the National Endowment for the Humanities (NEH) program known as Landmarks in American History and Culture. Each workshop admits forty teachers from anywhere in the U.S. The session lasts for six days, and examines the Delta's heritage in the Blues, religion, Civil Rights, foodways, and other important manners.
Tim Shaw, a top-notch instrument maker and elementary art teacher, was able to reunite with bluesman Bill Abel while attending.
Shaw first met Abel when they did a workshop together last summer. Shaw had been making cigar box guitars for a year when he learned of Abel's cigar box show at the Mary C. O'Keefe Cultural Center in Ocean Springs. Shaw's wife got her husband and his friends permission to be in Abel's show through the cultural center.
"I spent two days with him down there at the cultural center. We immediately hit it off," Shaw said. "I called my wife after the first day and I said, 'I have met my Jesus.'"
The two have been in touch since, but Shaw's being at Abel's performance during the NEH workshop was a complete surprise.
"I didn't tell him I was coming," Shaw said. "Yesterday when he was unloading his stuff I came here early to help, and I said, 'Remember me?' And he just couldn't believe I was here."
After Abel's show on Wednesday night, Shaw demonstrated his skills on Abel's cigar box guitar. Shaw said that while he has always been interested in music, he only became a musician in his early 30's.
"I worked with two guys who were surprised that I didn't play anything because I knew so much about music," Shaw said. "They set out on a mission to teach me to play. One of them played the drums, the other one played guitar. They decided they were going to teach me the bass so we could have a band."
From playing instruments, Shaw became interested in making them. During his quest to make a solid-body electric guitar, he encountered a news clip about a man who made cigar box guitars on the coast. Shaw visited the artist's gallery in Bay St. Louis with some friends the following Sunday and ended up buying one of the artist's cigar box guitars.
"I took it home and took it apart and looked at it and thought, 'Huh, this is interesting. I think I can do this,'" Shaw said. "And so my endeavor to make solid body electric guitars took a left turn to cigar box guitars."
Shaw, whose projects are usually commissioned, says that the six-day workshop has left him inspired.
"I'm really excited about this workshop. I've already designed three new guitars," Shaw said. "I can't wait to go home and make them. They're going to be blues themed."
For more information, contact the Delta Center at 662-846-4311 or Luther Brown at lbrown@deltastate.edu