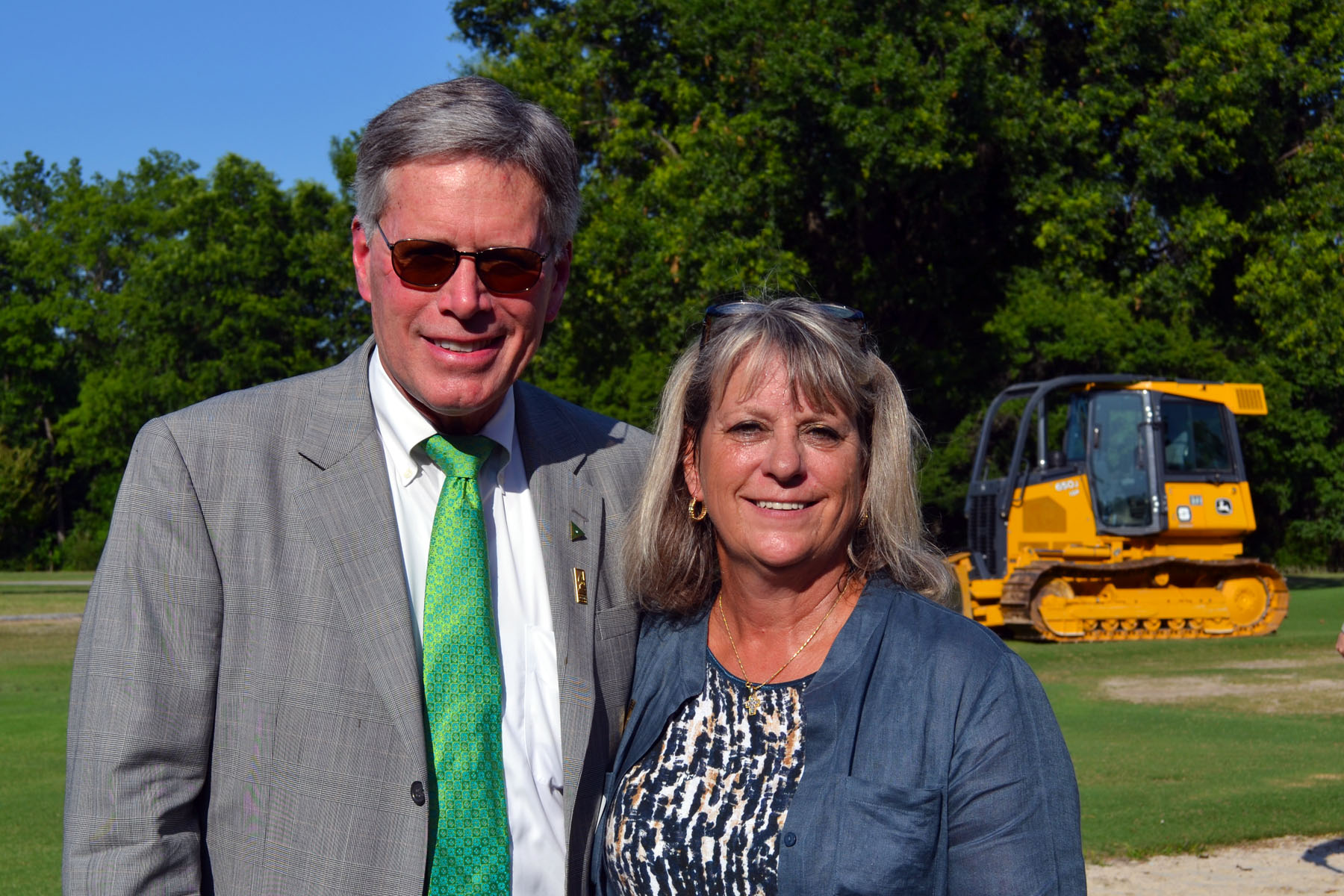 A large crowd attended the groundbreaking ceremony for the GRAMMY Museum® Mississippi at the Delta State Derrall Foreman Golf Course. Members of the Cleveland Music Foundation, Mississippi Legislature, and GRAMMY Museum® at LA LIVE officially broke ground on a hot evening this week at the site of construction on the golf course.

The program opened with an introduction and welcome by Lucy Janoush, president of the Cleveland Music Foundation, followed by a thank you for the gift of music from Rev. Michael McLaughlin, pastor at First Presbyterian Church in Cleveland. Delta State President William N. LaForge welcomed guests and spoke about the important partnership between the GRAMMY Museum® and the Delta Music Institute (DMI).

Mississippi Gov. Phil Bryant recognized the hard work that has gone into making sure the GRAMMY Museum went from a dream to a reality. He spoke about the advances of Mississippi's economy this past year, adding the museum to the list of accomplishments. Gov. Bryant presented Janoush with a $2 million check, an installment for the GRAMMY Museum® Mississippi.

Mississippi Lt. Gov. Tate Reeves thanked the GRAMMY Museum® at LA LIVE and the Cleveland Music Foundation for the opportunity being brought to the state. He presented Mayor of Cleveland Billy Nowell with a plaque for the city's recognition as the Smithsonian Magazine's Top 20 Small Towns to visit in 2013. Mayor Nowell noted the dedication, support, and progress that the project has received.

"From the bottom of our hearts, we thank the state of Mississippi, surrounding counties, and president of the board Lucy Janoush," said Nowell.

Sen. Willie Simmons and Bolivar County Board of Supervisors President Andrew Williams also addressed the crowd, thanking individuals for their work on the project and commented on the Delta heat. Rep. Linda Coleman, Rep. Tommy Taylor, and Rep. Buck Clarke were also present on the program stage.

Deputy Director of the GRAMMY Museum® at LA LIVE Rita George greeted the crowd on behalf of Bob Santelli, executive director at LA LIVE, and commented on the exciting opportunities ahead. Jon Hornyak, senior executive director of the The Recording Academy Memphis Chapter, emphasized the passion and excitement dedicated to the project by the Cleveland Music Foundation.

Members of the Mississippi Senate and House also in attendance were Rep. Bill Kinkade, Sen. Robert L. Jackson, and Sen. Terry W. Brown.

The program was followed by a reception at the Hugh Ellis Walker Alumni-Foundation House, featuring a musical performance by Homemade Jamz.

The GRAMMY Museum® Mississippi is scheduled to open the summer of 2015. The facility will be over 20,000 square feet and will showcase Mississippi's influence in American music through interactive exhibits. A student exchange program will provide DMI students the opportunity to work with peers at colleges and universities near Los Angeles while earning college credit.

For more information on the GRAMMY Museum® Mississippi or the Delta Music Institute, please call (662) 846-4579 or email dmi@deltastate.edu.