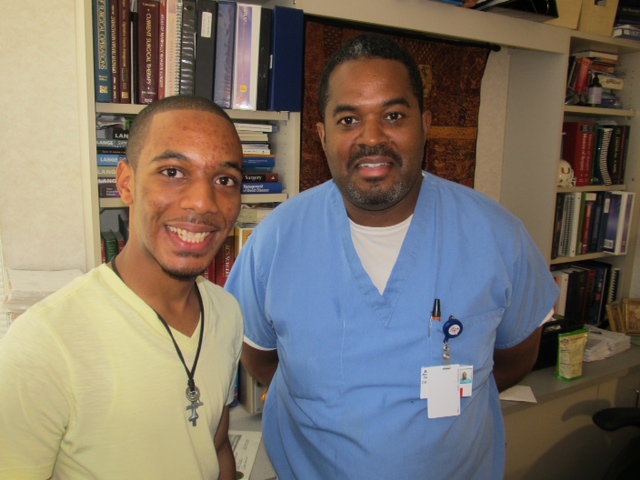 Dr. Roger Blake of Blake Surgical Association in Cleveland received a visit from Kenneth Thomas, 2013-14 recipient of the Blake Surgical Endowed Nursing Scholarship. Thomas is a senior nursing major from Tchula and will graduate in May 2014. He personally thanked Dr. Blake and his wife, Vicki, for providing the Blake Surgical Endowed Nursing Scholarship. With a smile on his face and deep appreciation in his voice, Kenneth said, "The scholarship means so much to me as it definitely alleviates the stress concerning his finances and allows me to continue my studies to make a difference in the nursing profession."
Dr. Blake was happy to visit with Kenneth and said, "I am very glad to meet you, and get to know the person who receives our scholarship. My wife, Vicki, and I are extremely glad the scholarship is able to help relieve the financial stress. We will be watching you as your career flourishes." Dr. Vicki Bingham, Chair of the Robert E. Smith School of Nursing, stated, "We are extremely grateful to Dr. Roger and Vicki Blake in their providing scholarships for recipients, such as Kenneth, who demonstrate academic excellence and leadership qualities in achieving their career goal as a registered nurse."

In the fall of 2012, Delta State announced the Delta State University Scholarship Initiative with the objective of raising $15 million. Currently over $8.2 million has been raised. This is one of the largest concerted efforts to raise scholarship funds in the history of the university to assist students with the ever-increasing rise in tuition and other college expenses. For more information on scholarships and how you can help, contact the Delta State University Foundation at 662-846-4704 or email foundation@deltastate.edu.