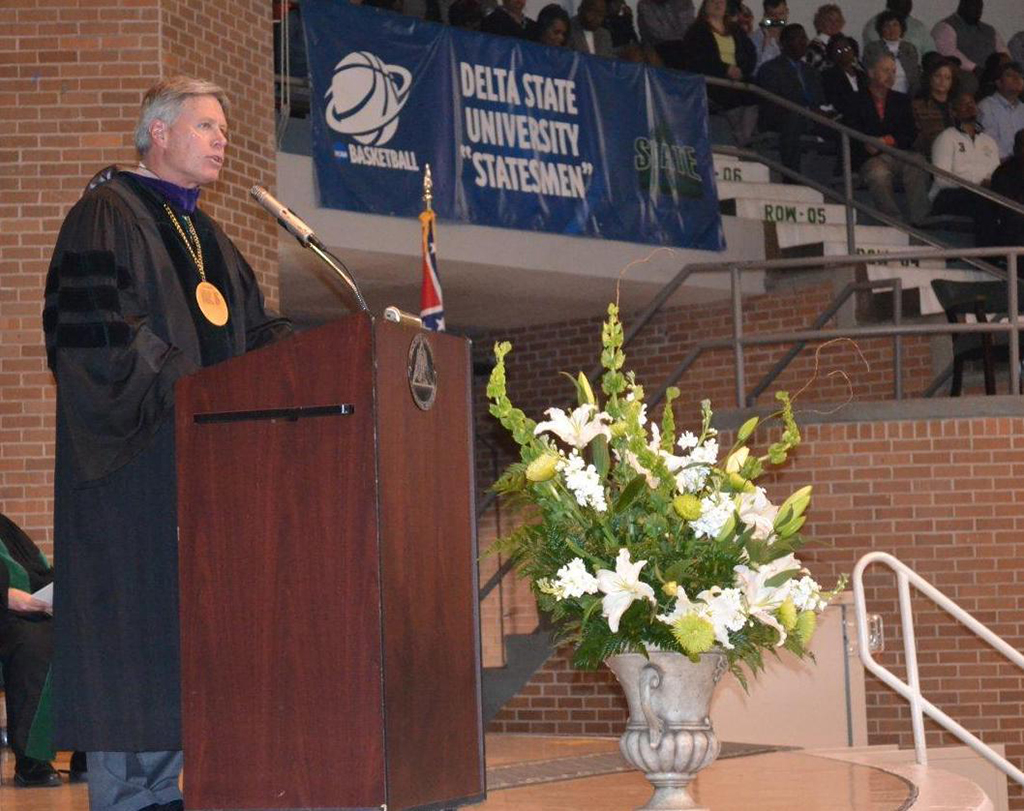 Delta State University celebrated its 2013 Spring Commencement Saturday, May 4, inside Walter Sillers Coliseum. Friends and family gathered with Delta State faculty and staff to honor the accomplishments of 422 graduates.
On the day, one doctoral degree and 21 educational specialist degrees were conferred, while 104 master's degrees and 296 bachelor's degrees were awarded through the College of Arts and Sciences, the College of Business, the College of Education and Human Sciences, and the Robert E. Smith School of Nursing.
Delta State President Emeritus Dr. John M. Hilpert presided over the commencement ceremony and opened the morning event by congratulating the graduates and applauding the efforts of family, faculty, and friends that helped them reach this milestone achievement.
Following his welcome, Hilpert introduced the ceremony's keynote speaker, William N. LaForge, who succeeded Hilpert as Delta State University's eighth president on April 15.
LaForge began his address by heralding Hilpert's distinguished service. "The gentleman who just introduced me has enjoyed a distinguished career in higher education, culminating with his service as President of Delta State University for the last ten years. He has guided and steered our university ship of state with skill, dedication, and class. Many good things have happened at Delta State under his steady hand," said LaForge. "President John Hilpert, you have devoted your life and career to higher education, and a full decade to Delta State University. On behalf of a very grateful Delta State nation, and on the occasion of your final public appearance for Delta State at this commencement exercise, I say thank you, and extend to you and Pat our very best wishes in your well-deserved retirement."

Sharing his vision for the future of Delta State, LaForge said, "I welcome this commencement as a first opportunity for me to share a few thoughts and visions I have as we continue to move Delta State forward. Playing off President Hilpert's theme of Delta State being the best regional university in America, I have embraced a similar mantra to continue our focus on developing a tradition of excellence: Delta State as a Mississippi public university of national distinction." He then discussed a number of focus areas including maintaining excellent faculty, focusing on student needs, celebrating alumni, and increasing student enrollment.
"We will continue to put Delta State on the map regionally, nationally, and globally not only through the good work of our competent and caring faculty, but also by sponsoring new programs such as an international conference on the blues; a major conference on racial reconciliation; creative international exchange programs for students, faculty and programs; and by bringing to this campus outstanding leaders in business, government, education, and society to expose our Delta State family to great ideas, and to nurture and support the core concept of university as a forum for learning and to inspire great dialogue. I look forward to the challenges and opportunities that lie ahead during my presidency, and I ask for your help and support as we, together, move Delta State to the next level of excellence," said LaForge.
Continuing his address, LaForge congratulated the graduates for reaching their academic goals. "On behalf of the Delta State family, I salute each of you for your academic accomplishments, your scholarship, your diligence in reaching this goal, and your determination in completing your degree. There is no more joyous moment in academe than parading before the faculty and your family and friends to receive your well-earned degree. We honor you today, and you honor us in return," he said.
LaForge encouraged the graduates to take time to celebrate their accomplishments, but not rest on their laurels. "Be careful not to confuse completion of your degree with completion of your learning. For the latter is never complete. Resist the temptation to set aside the value and benefit of learning for its own sake, for learning will always be important to you as an individual. It is part of what makes you unique," he said.
"I encourage you to embrace the future and enjoy the ride," LaForge continued. "Don't just go along. Be a meaningful part of it – be a leader in your profession. Make a difference in your community. Don't just give back – also pay forward. Invest your time and talent in your families and churches and communities to make our quality of life better. And don't wait to do that. Start the moment you walk out of this coliseum."

In closing, LaForge encouraged the graduates to be "C" students. "Like your faculty mentors who have shepherded you through the last few years, I value high performance and excellent grades. But, at the end of the day, there is something to be said for being a "C" student – not in the sense of a grade – but "C" meaning:

Competent – in your chosen field and in your profession.
Confident – in yourself and in your abilities.
Committed – to the idea of service to others.
Concerned – about people, your fellow traveler, and the world around you.
If you make these four "Cs", you will make something of yourself, and you will make Delta State and those who care about you very proud. As you leave these portals today for the final time, go forth with a sense of pride and accomplishment, help create a better world, and be well always! Delta State University is proud of you, and we hope you will return to your alma mater often."