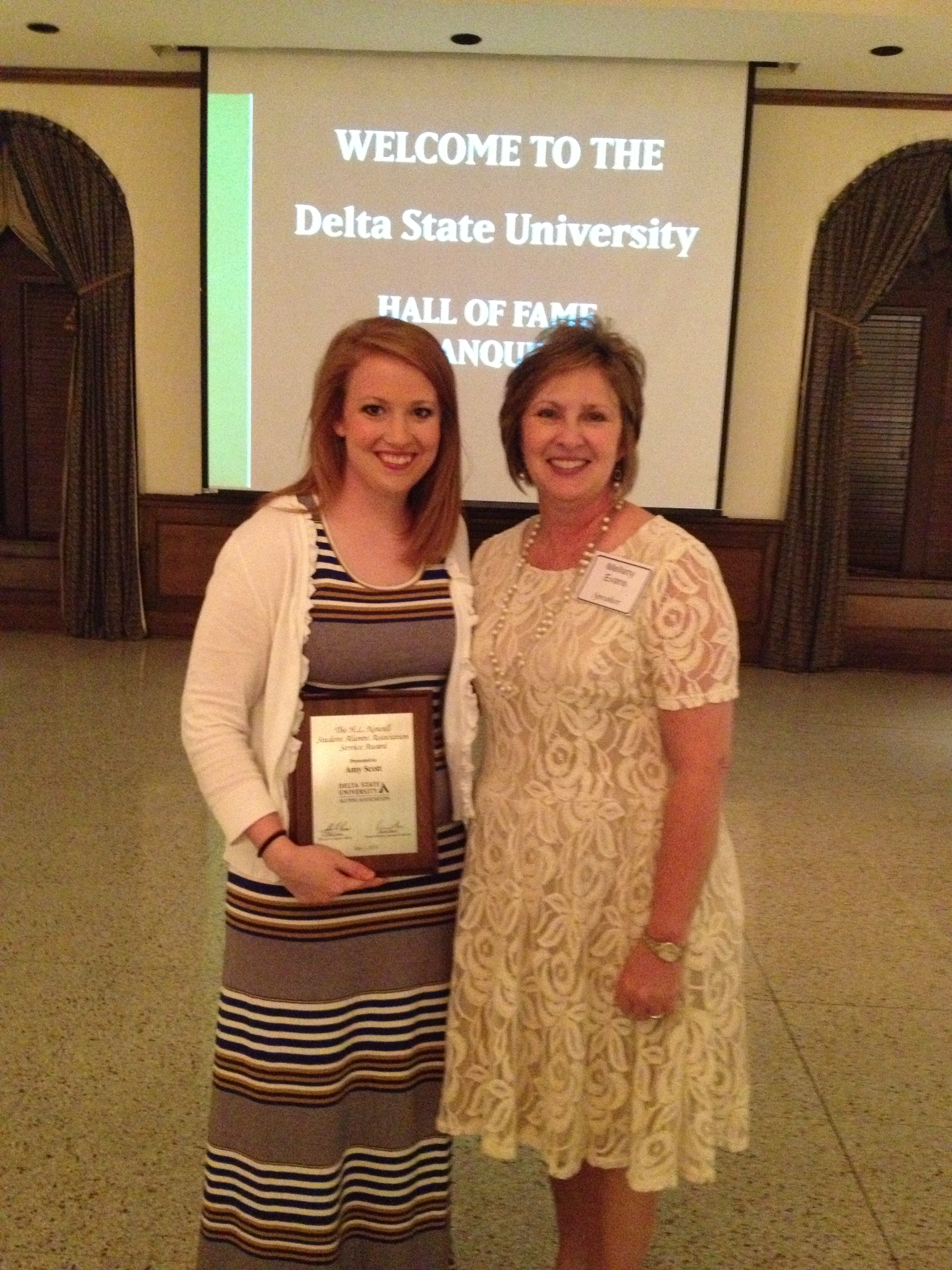 The Delta State University Alumni Association recently awarded Student Alumni Association Vice President Amy Scott with the H.L. Nowell Student Alumni Association Service Award at the annual Student Hall of Fame Banquet. The award is named for Henry Lee "H.L." Nowell, Jr who worked at Delta State from 1948 to 1987. During his 40 year tenure, Nowell served in numerous capacities including Dean of Men, Dean of Students, Director Student Activities, Director of Public Relations, Delta State's first Director of the Student Union, and first paid Alumni Secretary. The award is given each year to the Student Alumni Association member that has given tireless effort and generosity throughout the academic school year. Amy Scott recently finished her junior year at Delta State. She has been a member of SAA since her freshman year. She will serve as President of the Student Alumni Association next year.
The Alumni Association is also in charge of getting a speaker each year for the Student Hall of Fame Banquet. This year's speaker was Mellany Rayburn Evans. Evans grew up in Southaven and graduated from Delta State in 1988 with a B.B.A. in Marketing. As a student, Evans was inducted into the Student Hall of Fame. She was also inducted into Omicron Delta Kappa, was a President's and Dean's List scholar, was a member of the Student Alumni Association, served as President of Kappa Delta Sorority for two years, was President of the Delta Mu Delta Business Honor Society, was on the Delta State Homecoming Court, was a member of the Union Program Council and the Student Government Association's Student Court, was an Orientation Leader, and was an inaugural member of the Delta Diplomats.
Evans is the First Vice President and the Regional Marketing Officer for Bancorp South in Memphis. She is married to Brad Evans, also an alumnus of Delta State, and they have two daughters, Maggie and Mollie, who will be a freshman at Delta State in the fall.
For more information on the Alumni Association, contact 662-846-4660 or www.deltastate.edu/alumni. Follow the Alumni Association on Facebook: Statesmen Graduates; Twitter: @DSU_Alumni; Tumblr: www.dsualumni.tumblr.com; LinkedIn: DSU alumni; and You Tube: dsualumni1