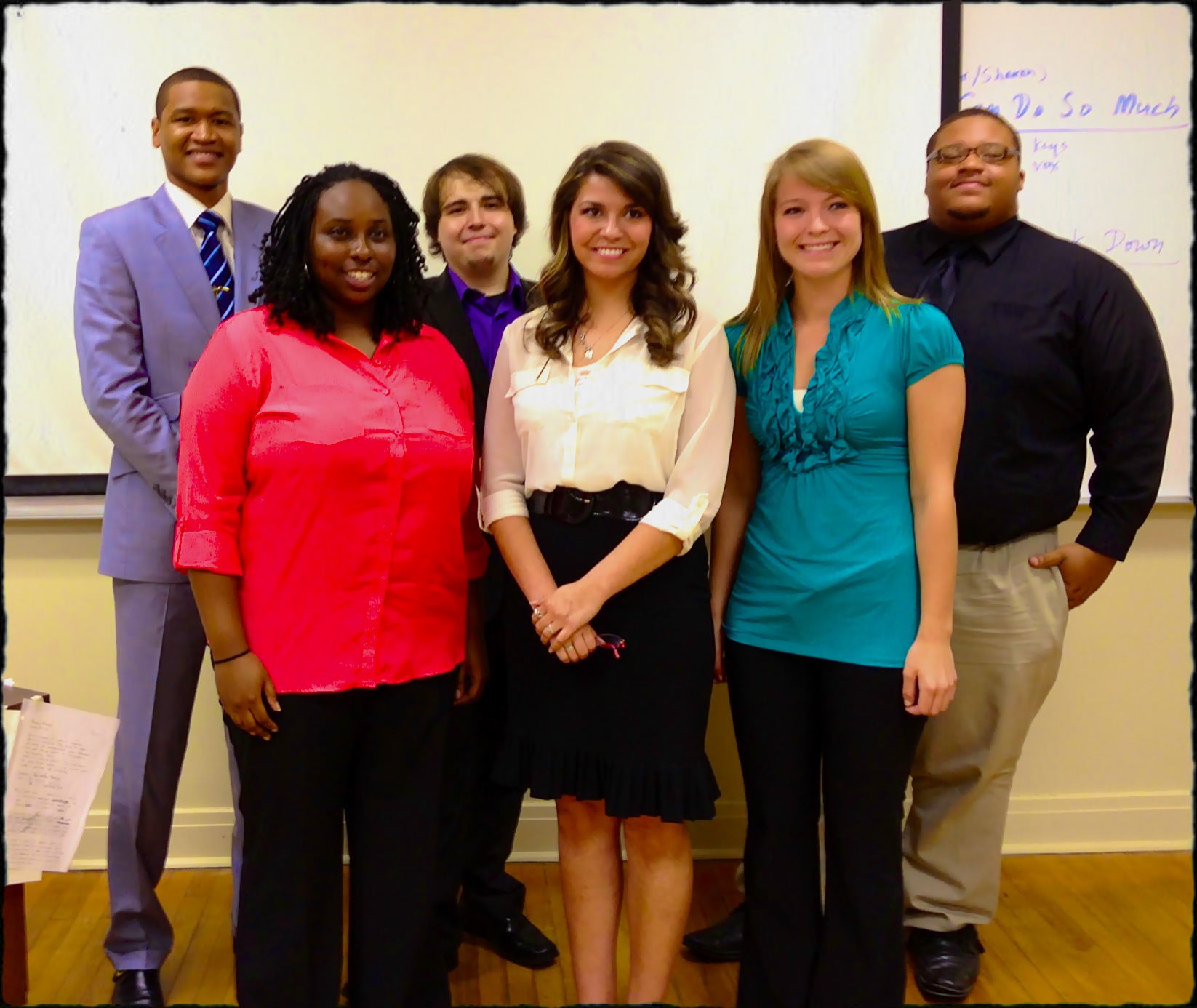 Delta State University students Laeitta Wade of Greenville and Lindsey Zweber of Olive Branch were recently recognized by the Steve Azar St. Cecilia Foundation for their outstanding business plan for the development of Eittabug Productions, a video production company. The two students, along with four other Delta State students, were competing in a unique initiative partnering selected music industry studies majors with business and entrepreneurship students to complete the development of formal business plans which were presented to campus and community professionals for review. The winning team earned seed money with which to launch their small business plan.
Three teams from Delta state University were included in the Steve Azar St. Cecilia Foundation initiative. The winning team of Laeitta Wade of Greenville and Lindsey Zweber of Olive Branch; Hyacine Do REGO of Libreville, Gabon, Africa and Alyssa Shetley of Salem, Illinois; and Matthew Coleman of Jackson and Jeremy Carodine of Cleveland.
These six DMI students signed up for the 10-week challenge which was under the direction of Dr. Tomeka Harbin, Assistant Professor of Management in the Delta State University College of Business. Students from the Delta Music Institute and the Department of Entrepreneurship in Business Technology were paired up to develop a comprehensive business plan for a music industry related business, complete with financial projections. The three teams presented their plans to financial professionals for review at the end of the semester. The students were offered incentives throughout the semester and made their formal presentations last week, competing for a $5000 award to be divided between the winning partners for use as seed money in launching their business plan.
Dr. Cooper Johnson, Chair of Entrepreneurship in Business Technology and Professor of Management explains, "The Steve Azar St. Cecilia Foundation's generous donation has allowed for the introduction of a unique partnership between the DMI and College of Business in which students from both departments worked together to better understand the amazing business opportunities music has for those who dream big and seek to bring their creative talents to a larger audience."
"It's very satisfying to be a part of a collaborative effort between departments and colleges on our campus. This type of effort offers valuable benefits to our students in such a unique and rewarding way," says Walker. "It was a joy to see how proud the students were of all their hard work."
The Delta Music Institute is an independent center of study under the College of Arts & Sciences at Delta State University, offering a B.S. in Music Industry Studies degree. The focus of the DMI is to provide students with a broad and thorough education in the technological, creative, and business areas of the music and entertainment industry. For information, contact (662) 846-4579 or visit http://dmi.deltastate.edu.