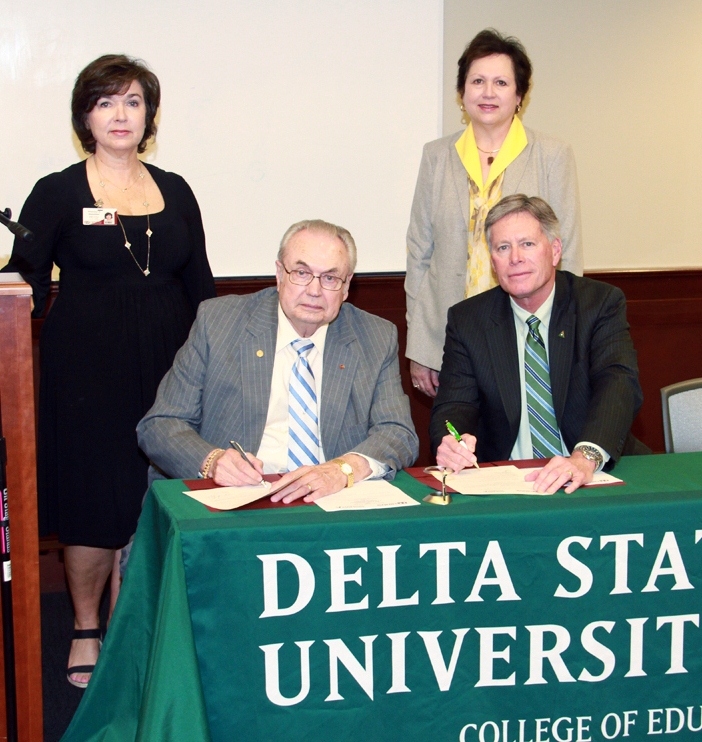 On Tuesday (May 7) officials from Delta State University and Hinds Community College sealed the new 2 Plus 2 Child Development Partnership that allows Hinds Child Development majors to remain at Hinds to finish their Delta State University bachelor's degree.
Hinds CC will be responsible for recruiting candidates for the degree program, advising the students, offering classes that will enable students to complete the program, consulting with the administration and faculty of Delta State's College of Education and Human Sciences about the program, and providing facilities, technology and media resources for students to complete the program.

Delta State will provide the promotion and marketing of the program, advisement of students who have met requirements for enrollment, and consultation with the administration and faculty at Hinds CC.
"This is a perfect example of a partnership and collaboration between Delta State and Hinds Community College that is a 'win' for both institutions and especially for our students," said Delta State University President William N. LaForge.

The agreement goes into effect the 2013 fall semester and will allow students to complete a B.S. in Family and Consumer Sciences with a concentration in Child Development from Delta State University without having to come to the Delta State campus.
"The timing of this partnership is critical, as our state moves forward to improve educational and care provisions for young children. Outstanding faculty at both Hinds Community College and Delta State University are to be commended for their vision and commitment to providing a pipeline that will increase the number of quality professionals providing educational services in the early childhood arena," said Dr. Leslie Griffin, Dean of Delta State's College of Education and Human Sciences.

Dr. Jan Haynes, Chair of the Delta State Division of Family and Consumer Sciences, said, "the Child Development faculty and I are very excited for this opportunity to share resources and expand opportunities in Child Development education."
For more information, contact Terry Parrish, Director of DSU/HCC 2 Plus 2 Program, at (601)-502-7590, tparrish@deltastate.edu.