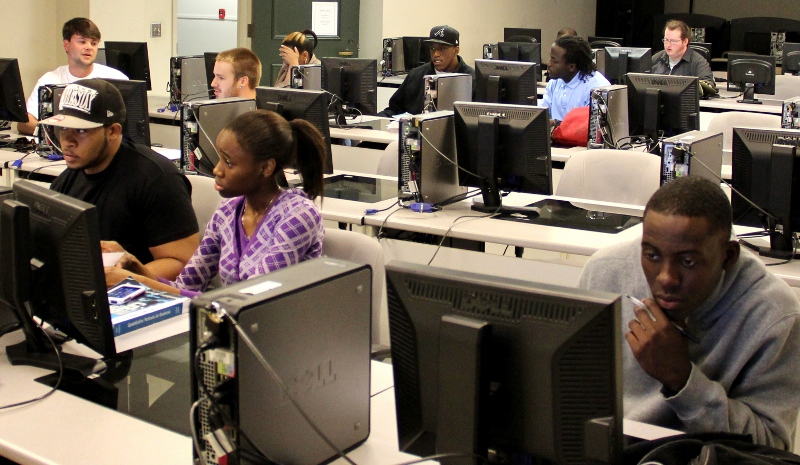 Joining over 300 universities, schools, and colleges nationwide, Delta State University is the first public four-year university in Mississippi to implement Canvas, a learning management system (LMS).
Delta State will launch the new LMS in June. The search for a LMS began with the need to upgrade support for students and faculty and an expiring license with Blackboard WebCT.
Ann Lotven, Delta State Provost and Vice President for Academic Affairs, announced that the selection was a collaborative, campus-wide decision.
"The Office of Information Technology (OIT) facilitated the selection process beginning in September 2012 with the creation of the LMS Selection Committee. The committee of 14 faculty members actively participated in research and presentations from the vendors before recommending two LMS options, Canvas and Blackboard Learn, to Academic Council and Faculty Senate in January," said Lotven.
Dr. Nicole House, manager of Instructional Technology, highlighted new features that Canvas will provide for students and faculty, including notification settings which allow for text and email notifications, multimedia discussion boards, Speed Grader, and multi-platform apps.
OIT plans to support Canvas beyond basic troubleshooting by coordinating hands-on training opportunities for groups of faculty as well as individual consultations. About 100 faculty members have participated in a series of orientations conducted by OIT. Online tutorials will be available for further training for faculty and students.
Chief Information Officer Dr. Edwin Craft said, "It is the goal of OIT to provide the faculty with the best technology available allowing them to provide the quality education to our students so they may reach their full potential. Canvas provides the enhanced interface that allows faculty to engage our students through an online learning environment. The courses that I have seen our faculty develop thus far through the training experiences have been outstanding."
The Office of Institutional Technology provides the Delta State community with information technology leadership, services, and support. OIT fosters an environment which empowers faculty, students, and staff who use technology to achieve their goals. For more information on the learning management system transition, please contact OIT at (662) 846-4760.