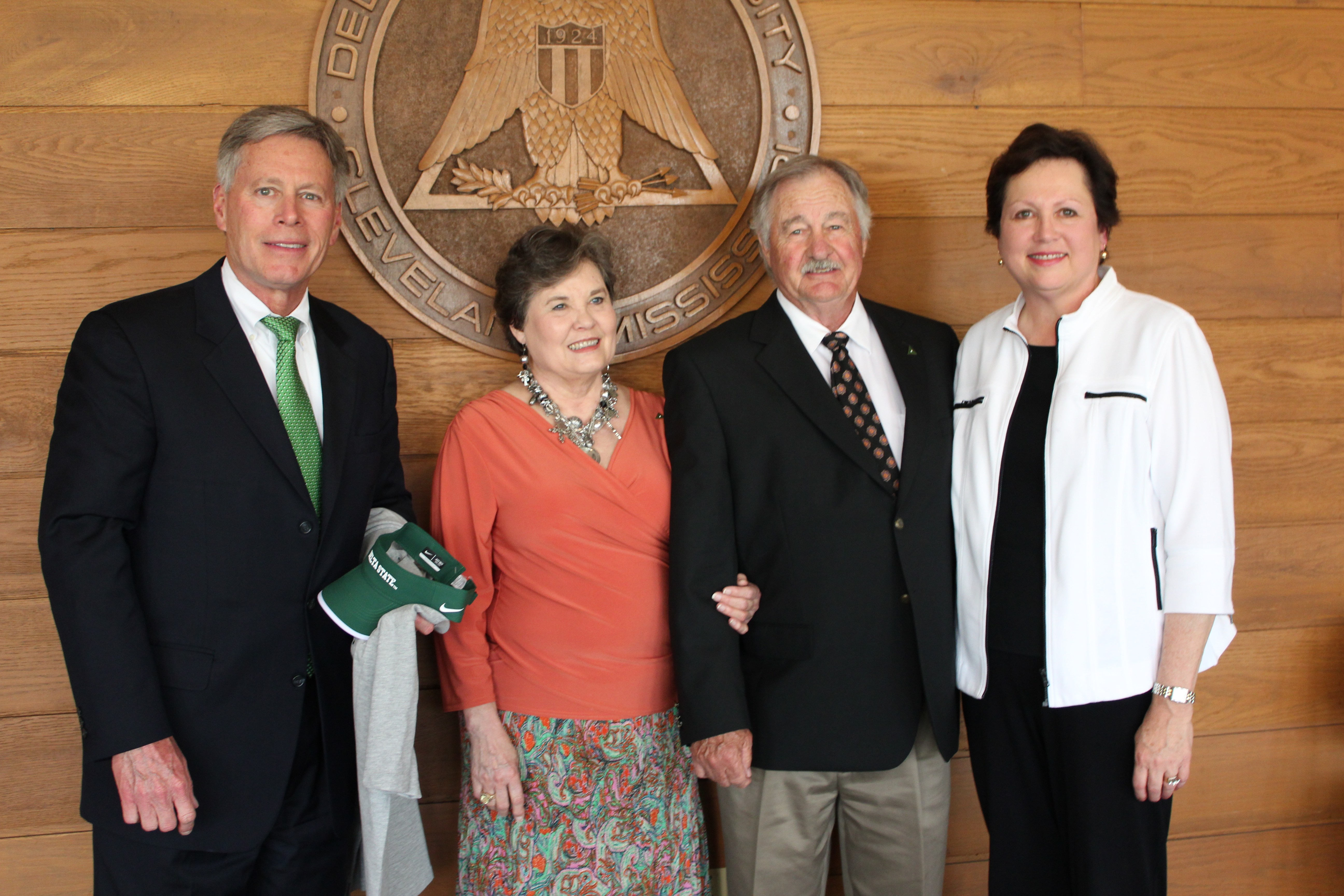 The Tri-State Education Foundation recently awarded the College of Education and Human Sciences an annual grant of $27,000 to fund two Ferguson Fellows annually. The Ferguson Fellows Program was designed to help aspiring school leaders envision and implement innovative and data-driven strategies for lasting systemic change that will positively impact the learning outcomes of students served in the targeted Mississippi schools.
Bob and Sylvia Ferguson, natives of New Albany, co-founded the Tri State Educational Foundation in 1998 and have since provided more than six million dollars in scholarships and grant moneys to support the educational needs of students who are residents within a 50 mile radius of Iuka. Over one million dollars of the six million dollars has supported scholarships and academic programs at Delta State University.
The Fergusons are veterans in the education field, with Dr. Bob Ferguson providing decades of leadership for schools across Mississippi, and Sylvia Ferguson championing early childhood education throughout her career, teaching and providing leadership for early childhood/elementary education. Dr. Ferguson's vision for the Fellowship stems from his experience as a Ford Foundation Fellow early in his career. According to Ferguson, the opportunities to travel and study best practices in education made a lasting impact on his leadership capacity. Ferguson also stressed that his wife, Sylvia, was instrumental in helping him to maximize this opportunity. It is their desire to see other young educational leaders have similar opportunities—knowing that strong leadership for our schools greatly enhances educational outcomes for students and capacity for the future health of our state's schools in general.
The College of Education and Human Sciences, assisted by the Chair of the Tri-State Foundation Board, will select two individuals to receive this Fellowship in its initial year. A rigorous application process will require a portfolio demonstrating the individual's potential to identify a significant and relevant issue or issues to address through a variety of learning experiences over the course of the year. Further, the individual will exhibit through a personal interview process and the portfolio that he is committed to addressing the issue(s) under study in a way that will have real-world application in his respective educational (school) setting. Essential to the traits exhibited is the ability to galvanize and lead others to effect change.
The fellowships will run annually from July 1 to June 30, with application materials due by April 1 of the year of the Fellowship onset. Each Fellow will be awarded $12,000 to cover the costs of activities and experiences, inclusive of approximately $2000 to cover the tuition costs of the two 3-hour courses required. The Fellowship may be used to cover expenses associated with activities such as travel, educational materials (e.g., books and software, others), registration fees associated with conferences, and tuition for the two 3-hour courses required during the internship. (This is not an exhaustive list; activities and associated expenditures will be pre-approved through the program faculty/mentors.)
The recipient's work for the year will be monitored through enrollment in a 3-hour advanced-level course for each of the spring and fall semesters encompassed within the year of study. Additionally, quarterly meetings with a cadre of mentors, including the Tri-State Foundation Board chair, will occur to ensure that the Fellow receives appropriate guidance, as well as meets incremental goals established at the outset of the experience. In advance of these meetings, progress reports will be submitted for review by the Fellow(s). Informal presentations will be made at quarterly meetings. A capstone product and formal presentation (guidelines yet to be developed) will be expected of the successful Fellow, as well as a plan for dissemination and application.
In recognizing the potential of this Fellowship, Delta State President William N. LaForge commented, "The Ferguson Fellows Program is the perfect example of private support, from loyal alumni and friends, that underpins some of our key needs in ensuring that K-12 school leaders have the training, experience, and leadership to influence positive changes in our school systems and to ensure a higher quality of education throughout the State." According to Dr. Leslie Griffin, Dean of the College of Education and Human Sciences, "The Fergusons have established a legacy for impacting P-16 education across the state. This Fellowship enhances the potential for this legacy to impact education in our state for decades to come."
For more information regarding the Fellowship, individuals may contact Dr. Joe Garrison, Chair of the Division of Teacher Education, Leadership, and Research, at 662.846.4400 or via e-mail to jgarrisn@deltatate.edu.