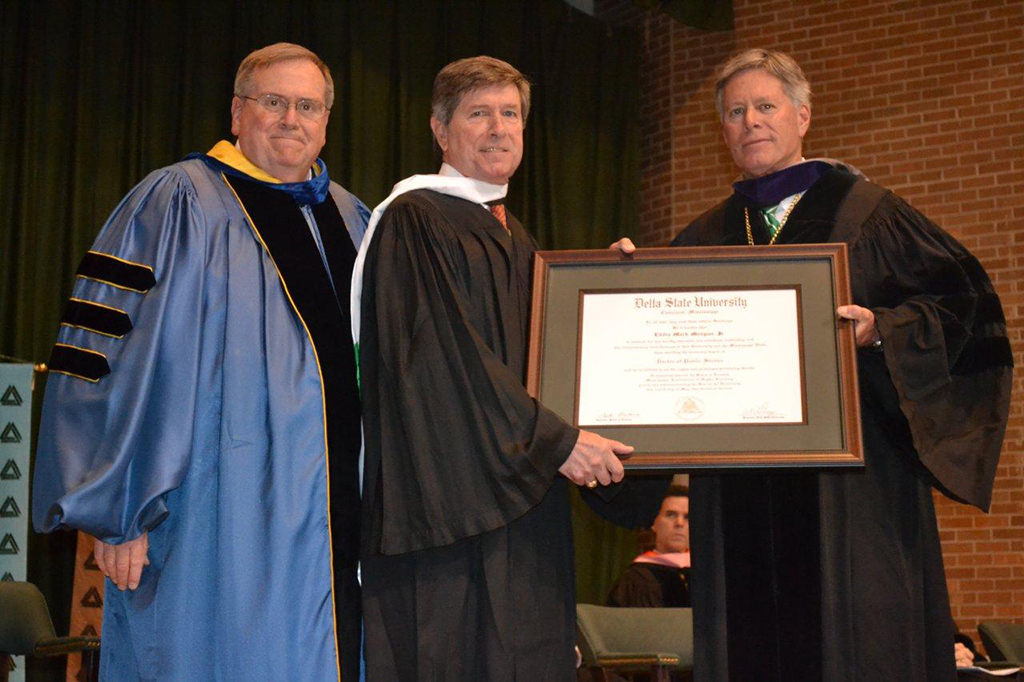 Delta Council Executive Vice President Chip Morgan was bestowed with one of the university's highest honors – an honorary Doctor of Public Service degree, as 422 Delta State University graduates received their degrees during the 2013 Spring Commencement held Saturday, May 4, in the Walter Sillers Coliseum.
A native of Oxford, Morgan graduated from Oxford High School in 1969 and earned a B.A. in Public Administration from University of Mississippi in 1974.
Morgan was named Executive Vice President of Delta Council in 1982 and is one of only two individuals to have served as the chief executive of the 65-year-old organization. Prior to this position, Morgan served for seven years as Director of the Industrial and Community Department of Delta Council.
Morgan's leadership has helped advance the Delta's 18-county region in the areas of agriculture, transportation, higher education, river management, tourism, literacy, and health care. He expanded the leadership role of Delta Council to include funding for higher education, adult literacy, and the improvement of access to health care. Morgan has confronted critical teacher shortages and helped forge a plan for a higher education curriculum to train high school administrators in the Delta.

During his 38 years of service to Delta Council, Morgan has developed strategies for the organization's input into national farm policy, major four-lane highway legislation for the State of Mississippi, and the successful completion of important flood control projects which have brought 100-year flood protection to communities throughout the region. As a result of his efforts, the Delta region now has the new Mississippi River Bridge in Greenville, the Delta Health Alliance, four lanes of Highway 61 running through the Delta, and the Mississippi National Heritage Area.
Morgan resides in Leland and is a member of the Leland United Methodist Church. He is married to the former Connie Rodgers of Belzoni and they have two children and three grandchildren.

Delta State University confers the honorary degree to individuals who have made significant and meritorious contributions to the university, higher education generally or other areas of society. Expected areas of achievement included, but are not limited to, outstanding creative and scholarly work, distinguished leadership or service, significant accomplishments or exceptional philanthropic support.

The honorary degree was unanimously approved by the Institutions of Higher Learning's Board of Trustees.