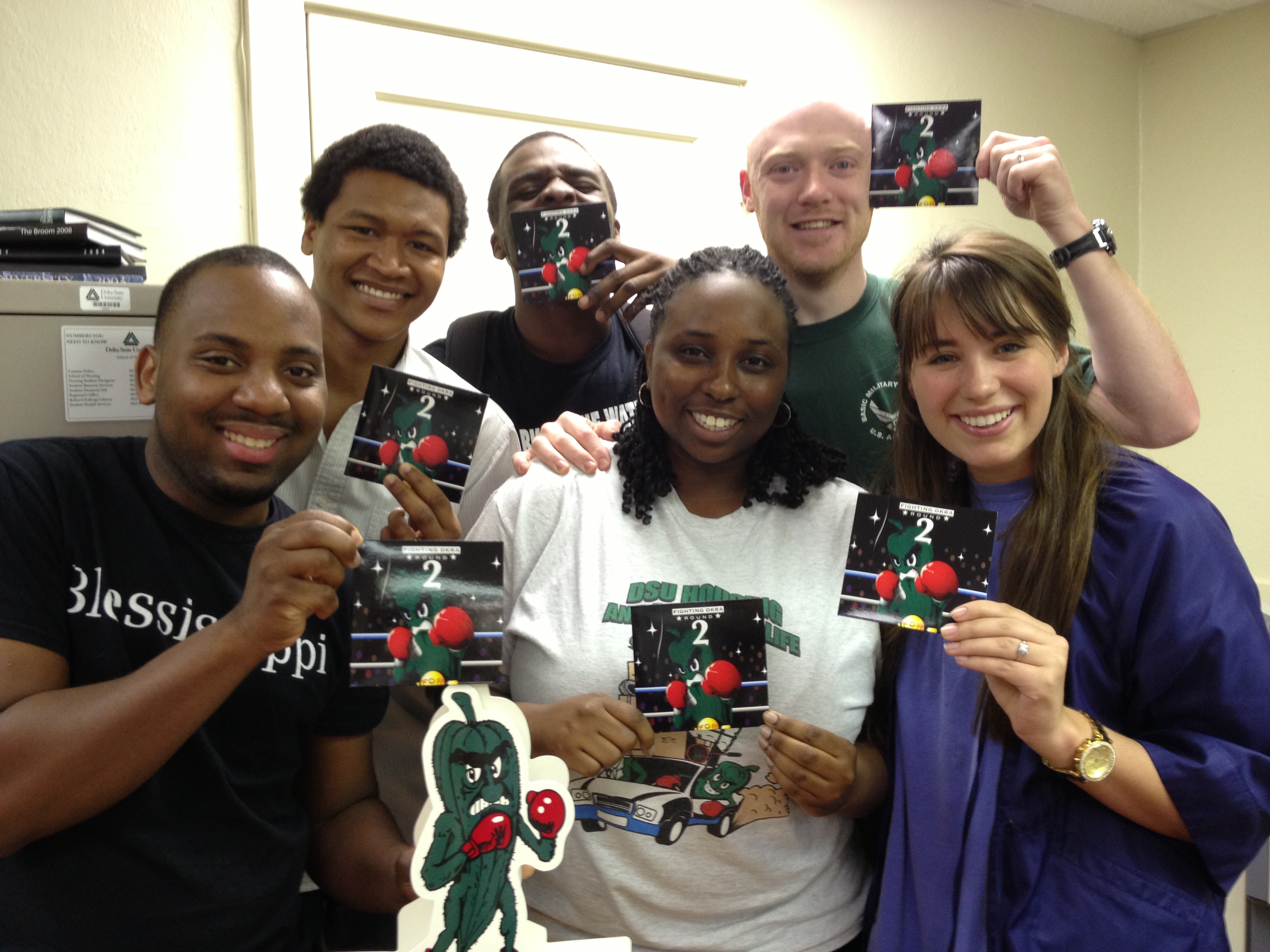 Fighting Okra Records (F.O.R.), a student run record label from the Delta Music Institute (DMI) at Delta State University, will showcase its second CD project, "Fighting Okra: Round 2," during an invitation only release party at 5:15 p.m., Tuesday, April 23 in the Control Room of Studio A at DMI, housed in the Whitfield building.
It has been two years since the DMI has exposed their music to the campus and community, so Fighting Okra Records student staff members decided to assemble a second compilation CD to expose the depth of talent of DMI students. "Fighting Okra: Round 2" contains 14 original songs and one cover song representing a wide range of genres including gospel, alternative, R&B, hip-hop, dub step, rock and country. The songs on the project were written, produced, engineered, or performed by current DMI students and alumni. Songs on the CD were chosen after multiple screenings by the entire F.O.R. staff, and were selected on the basis of lyrical content and recording quality.
Hyacine do REGO, a music industry studies major from Gabon, in central Africa stated, "As a student coming all the way from central Africa, being involved at such a high level in this project is for me a dream coming true. I get to have an insider look at everything the production of an album involves. This is all I have dreamed of from a young age. I am blessed."
Travis Calvin, a DMI senior who heads up the legal and finance position for the F.O.R staff, has a song featured on the CD. He commented, "I feel really honored to have been selected to be on the CD. The group of people I work with are all talented musicians themselves and to know that they chose my music as good enough to be included on the CD, it's just wonderful."
DMI Director Tricia Walker has served as the faculty advisor for the young label during their second year. "The lessons the students learn in working on this real-world project are invaluable. I'm proud of what they've put together on this CD."? ?
Copies of "Fighting Okra: Round 2" will be available for purchase in the main office of the DMI in the Whitfield Building on the campus of Delta State University and online at www.cdbaby.com. For more information about "Fighting Okra: Round 2" and the F.O.R. label, please contact the DMI at (662) 846-4579 or visit www.fightingokrarecords.com.