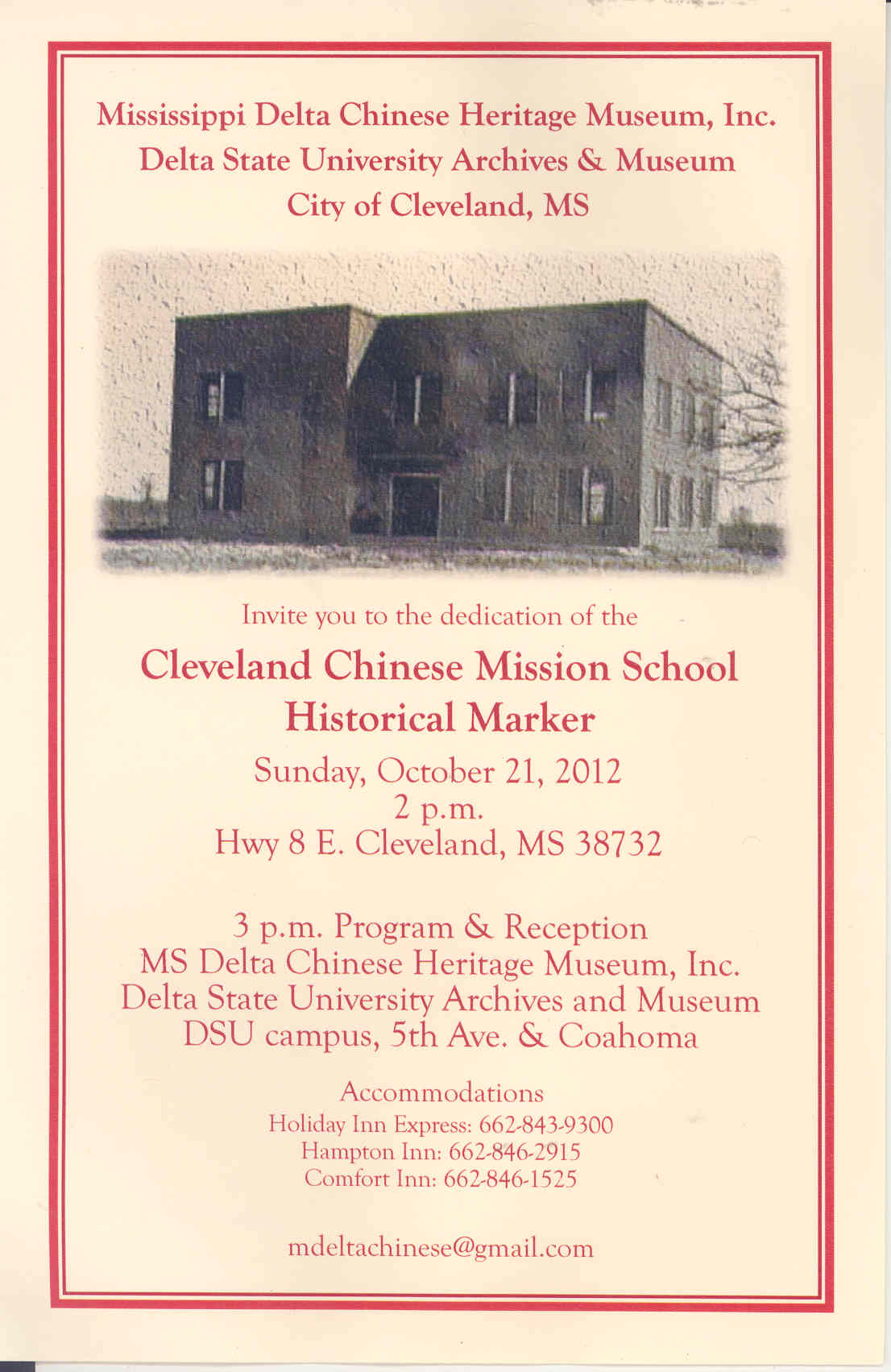 The Delta State University Archives and Museum, in cooperation with the Mississippi Delta Chinese Heritage Museum, Inc., and the City of Cleveland will dedicate the Cleveland Chinese Mission School Historical Marker this Sunday at 2 p.m. near the former Chinese Baptist Church building on Highway 8 in Cleveland. Following the dedication, the Delta State Archives and Museum will host a reception and exhibit opening at 3 p.m.
The dedication will be the most recent event chronicling the history of the Chinese Mission School. Last year, the University Archives and the Martin & Sue King Railroad Heritage Museum co-hosted a book signing for "Journey Stories from the Chinese Mission School" edited and compiled by Paul Wong and Doris Ling Lee. In conjunction with the book signing, the University Archives teamed with Delta State's Department of Facilities Management to have the cornerstone from the Chinese Baptist Church installed in the front garden of the Capps Archives & Museum building. Those in town attending the book signing were able to visit the marker for the first time since its donation to the University Archives.
Copies of "Journey Stories from the Chinese Mission School" will be available for purchase at the reception. Proceeds will support the University Archives' efforts to collect and preserve Miss. Delta Chinese culture and history.
Through the collaborative efforts of local organizations and historians, a new exhibit chronicling Chinese culture in the Delta will open as part of the day's events. The exhibit is housed on the third floor of the Capps building.
"For over three years this group has dedicated hours of time and personal resources to see this exhibit come to life," said Delta State Archivist Emily Jones. " I am so thankful for their commitment and effort and I am so excited for the exhibit to open Sunday."
The dedication, reception, and exhibit opening are free and open to the public. For more information contact Emily Jones at 662-846-4671, ejones@deltastate.edu or visit mdeltachinese@gmail.com.