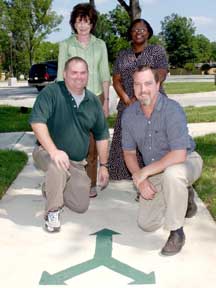 Delta
State
University
Health and Wellness Committee members (front row, l. to r.) Dr.
John Alvarez
, associate professor of HPE&R; Dr.
Richard Houston
, director of Counseling; Dr. Paula Norris, professor of Mathematics; and Corlis Snow, instructor in Elementary Education; stand in front of one of the many "Green Mile" painted markings.
In an effort to promote overall health and wellness, while also advocating healthy lifestyle choices, Delta State University, through the work of its own Health and Wellness Committee, has officially marked the "Green Mile" on campus. Green painted arrows across campus sidewalks and paths now direct visiting walkers or runners along the "Green Mile."
While there is no official start or ending point, bidirectional arrows along the course allow participants to begin at any point, as the arrows will always return them to their original starting point. Popular starts include in front of the H.L. Nowell Union, Forest Earl Wyatt Gymnasium, the O.W. Reily Student Health Center or Brumby-Castle Residence Hall.
Health and Wellness Committee chair, Dr. John Alvarez, associate professor of Health, Physical Education and Recreation, maintained, "Our committee really wanted to provide fellow staff, faculty, students; as well as the community an opportunity and a place to get moving, whether it's walking or running. The "Green Mile" is a marked route, so you can calculate exactly how far you've gone.
"Much of the credit should go to Dr. Richard Houston," Alvarez continued. "He took it upon himself to paint the trail and was instrumental in designing the route. We're hopeful providing the space will motivate folks to get moving and include exercise in their daily routine."
For more information on Delta State's "Green Mile," please call Dr. Alvarez at (662) 846-4564.