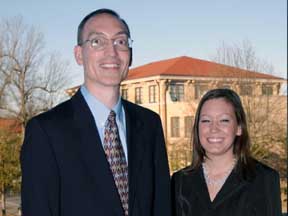 Clifton Wingard and Valerie Orcutt.
Seventy-two outstanding students and faculty members from 36 Mississippi public and private universities and colleges, including Delta State University's honorees, Dr. Clifton Wingard and Valerie Orcutt, received special recognition from the Mississippi Legislature today during the 19th Annual HEADWAE program.
HEADWAE, Higher Education Appreciation Day/Working for Academic Excellence, was established in 1988 by legislative resolution to honor individual academic achievement and the overall contribution of the state's public and private institutions of higher learning.
"The Mississippi Legislature, the corporate community and others involved in higher education are given the opportunity to recognize the academic achievements of outstanding students and faculty at our institutions of higher learning," said Lieutenant Governor Amy Tuck, HEADWAE chair. "These honorees, through their personal and academic achievement, demonstrate that a quality education can be found right here in Mississippi's colleges and universities."
Following a visit to the State Capitol, where they were welcomed and recognized by the Senate and House of Representatives, honorees took part in an awards luncheon with Blake Wilson, President of the Mississippi Economic Council, serving as keynote speaker. Also participating in the luncheon program were: Speaker of the House, Representative Billy McCoy; President Pro-Tem of the Senate, Senator Travis Little; Speaker Pro-Tem of the House of Representatives, Representative J.P. Compretta; Representative Charles Young; and Dr. David L. Beckley, President of Rust College and the Mississippi Association of Colleges.
An associate professor of mathematics at Delta State, Wingard is now in his 10th year of service at the University, having arrived on campus in the fall of 1996. He received his bachelor's degree in mathematics from Belhaven College in 1985. He received his master's and doctorate degree from the University of Mississippi in 1991 and 1995, respectively. Prior to joining the faculty at Delta State, Wingard had teaching stints at Calhoun City High School in Calhoun and Oklahoma Baptist University in Shawnee, Okla. His professional memberships include the American Mathematical Society, the National Council of Teachers of Mathematics and the Mathematical Association of America, for which he is the newsletter editor for the Louisiana/Mississippi section.
A senior nursing major and current SGA president, Orcutt has proven herself an active and positive young leader on the DSU campus. A member of Omicron Delta Kappa honor society, the Catholic Student Association and the Student Nurses Association, she has volunteered to take blood pressures at various Cleveland functions, while also volunteering her time at local nursing homes. In 2005, she was recognized as the Kappa Delta Collegiate Community Service Award recipient. The Lorman native is now in her third year as a retreat team leader for the Mississippi Colleges Catholic Retreat.
Voted on by Delta State's Academic Council, the HEADWAE award is given to one student and one faculty member annually.