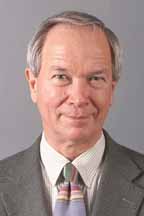 Dr. Douglas Lewis
As part of the campus' month-long celebration, "Arts in April," Delta State University will welcome Dr. Douglas Lewis, former curator for Sculpture and Decorative Arts at the National Gallery in Washington, D.C., to campus, Tuesday, April 18 at 12:15 p.m., in the art history lecture hall of Holcomb-Norwood.
Lewis will present a lecture, "Mississippi's Surprising Architecture," which will include a slide presentation and commentary.
His association with the National Gallery of Art in Washington lasted 40 years (1964-2004), 36 of which he served as Curator of Sculpture and Decorative Arts. He received his bachelor's, master's and doctorate degrees in Art History from Yale University, as well as a bachelor's and master's in Fine Arts from Clare College of the University of Cambridge.
A Prix-de-Rome Fellow, Lewis holds a diploma in Classical Studies from the American Academy in Rome. The international fellowships for his doctoral research supported a three-year residence in Rome and Venice, and he has returned to Europe several times a year, ever since. He is an expert on Renaissance, Baroque, and 19th century painting, sculpture, and decorative arts.
His principal books, among a list of some 150 publications, include "The Late Baroque Churches of Venice," Garland Press, New York, 1979; "The Drawings of Andrea Palladio," 1st ed. 1981, 2nd revised and enlarged ed., Martin-St. Martin, New Orleans, 2000; and "Renaissance Bronze Reliefs and Plaquettes," vol. 1, 2006, and vol. 2, 2007 (being published by the National Gallery of Art). He was, most recently, selected as author of a forthcoming encyclopedic survey of "The Buildings of Mississippi," a component in the 50-volume series of "The Buildings of the United States" that is co-sponsored by the National Endowment for the Humanities and Society of Architectural Historians.
He has taught art and architectural history, and decorative arts, at a half-dozen of the country's pre-eminent universities, including Yale (1962-1964); Bryn Mawr (1967-1968); the University of California at Berkeley, in 1969-1970, as well as in 1979-1980; The Johns Hopkins University, 1973-1977; Georgetown University (in Washington, and also at the Georgetown Villa near Florence), 1980-1993; and at the University of Maryland, Honors Program (1993-2003), where he was voted Outstanding Advisor (for his work as Coach of the Men's Crew), and in 2000 as "Best Teacher on Campus."
Currently, Lewis lives on his family's 203-year-old plantation in southern Mississippi.
The lecture will be free and open to public. For more on this event or any associated with the "Arts in April" festival, please contact Dr. Mark Butler, Chair of the Delta State Special Programs Committee, at (662) 846-4619 or mbutler@deltastate.edu.