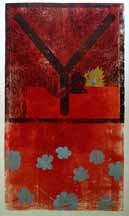 "Y", relief print by Sheri Fleck Rieth
The Wright Art Center Gallery at Delta State University will open the exhibition calendar for academic year 2005-06 with a solo show by Sheri Fleck Rieth. Entitled "TURN," Rieth will present printmaking and mixed media forms which reference paths taken or not taken, memories and the layered meanings of language through her use of images and letters.
"Our memory, like computer files, corrupts over time and colors what we remember about why we turned in one direction or another," she offered. "The images are metaphors for those turns." A Coldwater resident, Rieth is on faculty at the University of Mississippi as an Associate Professor of Art.
The public is cordially invited to attend the exhibit's opening reception on Sunday, Sept. 11 from 4 p.m. – 6 p.m., where Rieth will be available to answer questions about her work. The exhibit will be on display until Oct. 7 between the hours of 8 a.m. – 8:30 p.m., Monday through Thursday and 8 a.m. – 3:30 p.m. on Friday at the Wright Art Center on campus.
For more information, please call the DSU art department at 662-846-4720.