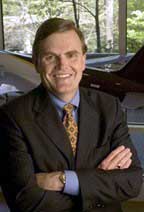 Abney
Delta State University's College of Business will present its annual lecture series, Thursday, Oct. 27 at 11 a.m. inside the State Room of the H.L. Nowell Union Building on campus.
With "Celebrating Academic Excellence" serving as this year's message, the College of Business will welcome David Abney, President of UPS International and 1976 Delta State alumnus, for the keynote address.
As President of UPS International, Abney is charged with the strategic development and management of UPS's international package division. As part of UPS's Management Committee, Abney is also responsible for overseeing UPS's international package services within the United States.
A native of Greenwood, Abney received his bachelor's degree in business administration. It was while at Delta State, he began his career with UPS, as a part-time employee loading and unloading packages in 1974.
Since that time, Abney has held various positions throughout his UPS career, including division manager in New Jersey and district manager in Utah. He also served as president of SonicAir®, UPS's same-day delivery service. While president of SonicAir, Abney was honored with the Professionalism in Services/Support Management Award by the International Association of Services Management for demonstrating exemplary managerial characteristics.

Prior to taking the helm of UPS's top international post, Abney led UPS's logistical and freight operations in Canada, Latin America and the United States. He later headed up the global operations of UPS's freight forwarding and customs brokerage operations. During his tenure, Abney oversaw UPS's largest acquisition in recent history – the Fritz Companies.
"Obtaining my degree from Delta State was like crossing the continental divide. I was the first in my family to graduate from a university," Abney offered. "My education at Delta State certainly helped prepare me for the 'real world' of business. It has been 29 years since I left Delta State, and as I now travel throughout the world, I proudly refer to Delta State wherever I go."
The lecture is free and open to the public. For more information, please contact the College of Business at (662) 846-4200.