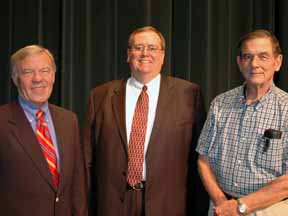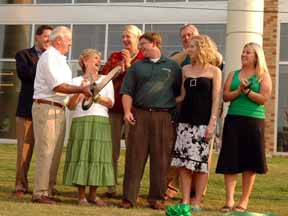 Photo at left: Ned Mitchell, chair of the "Year of Cleveland" committee, left; Dr. John M. Hilpert, Delta State University President, middle; and David Work, Mayor of Cleveland, right; gather before the State of the University to discuss "Year of Cleveland" plans.

Photo at right: Front row, from left, Billy Dorgan Sr. , his wife Patty, Billy Dorgan Jr., his wife Rebekah, Maureen Dorgan, (back, from left) Delta State University Athletic Director Brad Teague, Pat Hilpert and Delta State President John M. Hilpert participate in a ceremonial ribbon cutting to open the Billy Dorgan, Jr. Student Performance Center.
In conjunction with Delta State University's 80th academic year and in recognition of a positive town and gown relationship for the past eight decades, the 2005-2006 university term has been designated, "The Year of Cleveland."
In his recent State of the University address, Dr. John M. Hilpert, Delta State's President, reported, "As a university, we will pay tribute to our host community with a series of events designed to focus on Cleveland's leadership, its strengths, and its support for this institution. During this year, we will ask and answer a question, 'How can Delta State University make significant and positive contributions to the development of 21st century Cleveland, Mississippi?'"
Ned Mitchell, who Hilpert acknowledged as "one our community's prominent citizens" and "one of our most committed alumni," has agreed to chair "The Year of Cleveland" committee, and is excited about the opportunity. "I think this a wonderful thing for Delta State to do. The community and the University have always been so intertwined and worked so beautifully together. We've gained synergy from one another, and I think "The Year of Cleveland" will be just another shining example of that. We hope to have a number of activities planned and encourage as much community and university participation as possible."
And if the inaugural "Year of Cleveland" event is any indication, community and university participation will be copious. As part of the Pig Pickin' festivities this past weekend, the community leadership, along with the Delta State community, was invited to a ribbon-cutting reception for the Billy Dorgan, Jr. Student Performance Center.
The Billy Dorgan, Jr. Student Performance Center became a reality thanks to a $1.5 million donation by Billy and Patty Dorgan, Sr., in the spring of 2002. The Center was completed on Feb. 18, 2005 and is currently online and in use by all 13 Delta State athletic programs and many members of the Cleveland community.
The 15,605 square feet, state-of-the-art complex houses a free-weight area, a general exercise area and storage on the first floor, while the second floor features two academic labs, a conference room, as well the athletic director's and other administration offices.
The second annual community recognition luncheon is set to serve as another event in "The Year of Cleveland" itinerary later this fall, with more details to be released as they become available.
For more information on "The Year of Cleveland," please contact the Delta State Office of University Relations at (662) 846-4675.