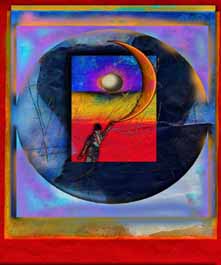 MOON COOKIE
by Jerry Lamme.
The Wright Art Center Gallery at Delta State University will present "Vivid Inclinations," featuring digital printmaking by Jerry Lamme with an opening reception for the artist on Sunday, Jan. 29 from 4 – 6 p.m.
A native of Tuscaloosa, Ala., Lamme spent 24 years in Atlanta teaching offset printing, commercial photography, computer art, and traditional arts and crafts, while also serving as an adjunct faculty member at Mercer University for 13 years, before committing to his own artwork fulltime.
The artist's work uses computers, scanners and printers to transpose his printmaking, collages, paintings and drawings in which he explores the effects of color, layering and time.
The public is cordially invited to the reception and to view the exhibit, which will remain on display until Feb. 21. The Wright Art Center Gallery is open between the hours of 8 a.m. – 8:30 p.m., Monday through Thursday and 8 a.m. – 3:30 p.m. on Friday.
For more information, please contact the Delta State art department at (662) 846-4720.