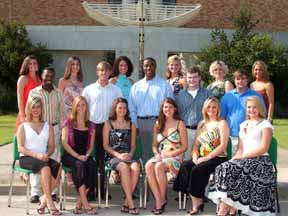 Renaissance
Renaissance, Delta State University's popular music ensemble, will sponsor its fall Chicken Spaghetti Supper on Sept. 13, from 4:30-7 p.m. in the State Room of the H.L. Nowell Union on campus.
Tickets are $7 for dine-in or carry-out and $8 for all-you-can-eat. The menu includes chicken spaghetti, salad, homemade rolls, buttermilk chocolate cake and iced tea.
Renaissance students will be selling tickets to the biannual event by going (door-to-door) in the community close to Delta State University, as well as to the local businesses.
"It's a difficult task going to houses in Cleveland like we do, but we think it's much more personable. Cleveland residents have an opportunity to enjoy a nice meal and the chance to meet the new performers in Renaissance each year. Please welcome these hard working students to you door," Gene Ayers, Director of Renaissance and Assistant Professor of Music maintained.
Renaissance is celebrating its 32nd year of performing throughout the Southeastern United States, Europe, and the Caribbean.
"We appreciate the community supporting all of our activities during the academic year. Renaissance has been very fortunate through these 32 years to perform 21 times outside the United States," Ayers added.
Chicken spaghetti supper tickets may be purchased at the door or by calling the Renaissance office at (662) 846-4610.