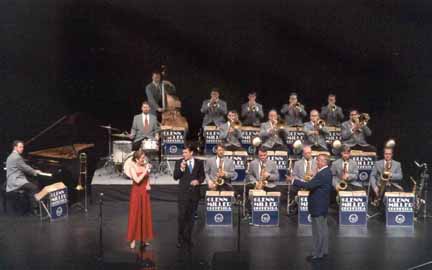 The Glenn Miller Orchestra will perform Friday, March 3 at 7:30 p.m. at the Bologna Performing Arts Center on the Delta State campus.
As part of a tour through the South, the Glenn Miller Orchestra will visit the Bologna Performing Art Center on the Delta State University campus, Friday, March 3 at 7:30 p.m.
The most prolific swing band in history, the band still plays about 300 date annually, traveling over 100,000 miles each year.
"This is one of the best loved performance groups in the world and a show that folks will not want to miss," said David Dallas, the Bologna Performing Arts Center's Executive Director. "We are very fortunate to have the Glenn Miller Orchestra coming this year. They are still the most sought after big-band in the world."
Miller's recordings of In the Mood, Chattanooga Choo Choo, A String of Pearls, Moonlight Serenade and Tuxedo Junction were all major hits in the 1930's and 40's.
The band's founder and namesake, Glenn Miller disappeared on Dec. 15, 1944, when his flight from London to Paris went down over the English Channel at the height of his popularity. Miller had disbanded his famous orchestra to form the Glenn Miller Army Air Force Band to entertain the servicemen in WWII.
"The Orchestra is an icon of American history as well American music." Dallas added. "It's the music of the Greatest Generation, but we hope all generations will want to come out and enjoy the experience."
The Glenn Miller Orchestra has been an international phenomenon for more than half a century, confirming that Miller's music has no time limitations.
"They'll be playing all the standards, but also some lesser-known tunes that should jog a few memories from our audience," Dallas finished.

For more information on this performance, please contact the Bologna Performing Arts Center at (662) 846-4626.