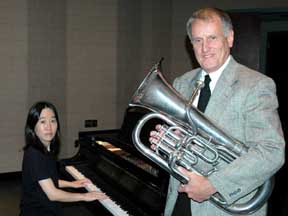 Dr. Edward Bahr, professor of music at Delta State University, will present a euphonium recital at 7:30 p.m. on Tuesday, Oct. 11, in the recital hall of the Bologna Performing Arts Center on the campus.
A euphonium is a brass wind instrument, similar to a tuba, but having a somewhat higher pitch and a mellower sound.
Bahr will be accompanied on piano by Dr. Kumiko Shimizu, DSU staff accompanist.
The recital will include Elizabeth Raum's Duet for Flute and Euphonium which will include flutist Jane Ann Bahr, and Three Pieces for Solo Euphonium by Delta State University graduate Samuel Hollomon. Other compositions included on the recital are Ernest Bloch's Prayer, Etienne Ozi's Adagio et Rondo, Vittorio Monti's Csardas, as well as works by William Mac Davis, J. E. Barat, and Guillaume Balay.
The recital is free and open to the public. For more information, please contact the Department of Music at (662) 846-4615.