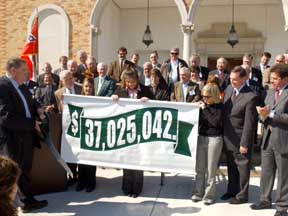 In a culminating press conference on the east steps of Kent Wyatt Hall, Delta State University announced the conclusion of its highly-successful, five-year "Wings & Roots: Let our Legacy Soar" fundraising campaign.
Amidst confetti cannons, cheerleaders and a band, a banner detailing the final tally was unfurled to reveal $37,025,042, an amount that tripled the campaign's initial goal.
The "Wings & Roots" campaign, which began in January 2000 and ended in September 2005, stands as the largest collection of private support in the history of Delta State University.
Campaign chair Ned Mitchell, of the campaign offered, "This is an extremely proud moment for Delta State University. It's dynamic, uplifting. This campaign has created synergy that lays the foundation for so much future success."
The support provided as a result of "Wings & Roots" is already being utilized to fund scholarships, faculty development, athletics, and other campus priorities. By just examining a handful of the projects funded to date illustrates the far-reaching benefits being realized: $2.4 million in new scholarship money for endowed and annual scholarships; creation of the Hazel and Jimmy Sanders Sculpture Garden at the Bologna Performing Arts Center; inception of the Delta Music Institute and the initiation of two federally-supported programs, the Delta Health Alliance and the Delta Education Initiative.
Delta State's seventh president, Dr. John M. Hilpert, who came to the University during the third year of the campaign, said, "Remarkable. That is the word that keeps going through my head – remarkable. "Wings & Roots" started out as a concept and nothing more. When I arrived in 2003, the original goal had already been quickly passed, so the question became why not make a good thing even more of a good thing?"
That "good thing" was made possible, in part, because of Delta State faculty and staff donations, and as such, Elsie Lynn Ervin, current chair of Staff Council, and Debbie Allen, current chair of Faculty Senate, presented Hilpert with a check totaling $292,457.
Today's press conference stood as the commencement activity for an entire slate of Homecoming weekend festivities.
Proposed Cut Line: Dr. John Hilpert, left, looks on as a banner unveiling the final tally to Delta State University "Wings & Roots" campaign is unfurled.