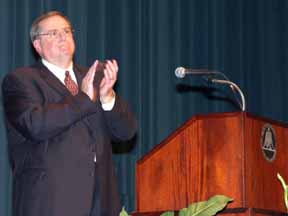 Delta State University President Dr. John M. Hilpert will deliver the keynote address at Monday's convocation, as part of the two-day campus event, "Our Corner: Academic Excellence and Community Partnerships."
The Student Engagement Champions, in conjunction with an initiative to integrate service-learning into the academic experience of each student at Delta State University, will present a two-day campus event ,"Our Corner: Academic Excellence and Community Partnerships," Monday, April 10 and Tuesday, April 11.
Fittingly, in a year Delta State has heralded as "The Year of Cleveland," the University is, both, celebrating and recognizing the positive relationship Delta State University and Cleveland have shared for eight-plus decades. Service-learning only works to maintain and strengthen that relationship; as service learning and community partnerships connect students, faculty, and community in meaningful activities.
According to the National Service-Learning Clearinghouse, "service-learning is a teaching and learning strategy that integrates meaningful community service with instruction and reflection to enrich the learning experience, teach civic responsibility and strengthen communities."
"Our Corner: Academic Excellence and Community Partnerships" will begin Monday, April 10 at 2 p.m. with a convocation in the Delta and Pine Land Theatre of the Bologna Performing Arts Center on the University campus. Dr. John M. Hilpert, President of Delta State, will deliver the keynote address to staff, faculty and students, as well as members of the Cleveland community. A reception will follow in the lobby.
Dr. Thomas Schnaubelt, Dean of Community Engagement & Civic Learning, University of Wisconsin-Parkside, will keynote and moderate the plenary session and panel discussion, scheduled for Tuesday, April 11, at 1 p.m. in Jacobs Center of Ewing Hall on campus. He will present on "Service-Learning and the Engaged University."
Immediately following the plenary meeting, Schnaubelt, along with Vickie Blakely Reed, Mississippi Higher Education Consortium Program Coordinator, will lead breakout sessions focused on service-learning practices. The sessions will run concurrently, 2 p.m. – 3:15 p.m., with Session I to be held in Ewing Hall, Room 227 and Session II scheduled for Ewing Hall, Room 225.
Session I, entitled "Building an Engaged Department: Beyond the Single Course Experience," will be presented by Schnaubelt, while Reed will direct Session II, "Getting Started with Service-Learning."
For more information, please contact SEC chair, Dr. Paul Hankins at (662) 846-4618 or phankins@deltastate.edu.