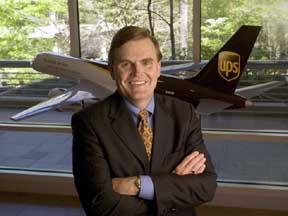 David Abney will return to his alma mater to keynote

Delta

State

University

's International Business Symposium.
Delta State University, through its College of Business and Division of Management, Marketing, and Business Administration, will present a two-day International Business Symposium on Thursday, March 2, and Friday, March 3, in the State Room of the H.L. Nowell Union Building on the campus.
The symposium is being sponsored by David Abney and wife, Sherry, both Delta natives who currently reside in Atlanta. Abney is President of UPS International and a 1976 Delta State alumnus.
His upcoming visit to Cleveland, as part of the International Business Symposium, will mark his third stay on campus during this academic year, "The Year of Cleveland." Abney delivered the keynote address in late October as part of the College of Business' annual lecture series, and most recently attended the Foundation's Board of Directors meeting.
It was the Abney's generous gift that helped initially launch Delta State University's International Business and Development program this fall. Designed to prepare students for the constantly expanding world of business, the International Business and Development program aims at providing students with the necessary skills and understanding to succeed in the international business arena.
To that end, the International Business Symposium will focus on providing an introduction to the international aspect of business, including the future of business through the expansion of organizations to an international environment, to both current Delta State students and symposium participants.
Abney will open the event Thursday evening at 6:45 p.m. inside the State Room. As President of UPS International, he is charged with the strategic development and management of UPS's international package division. He is also responsible for overseeing UPS's international package services within the United States, as part of UPS's Management Committee. A well recognized speaker on international topics, his resume includes recent presentations at the Southeast U.S. Trade Conference in Tokyo, the World Economic Forum in Switzerland and the Shanghai Executive Leadership Program.
The symposium will resume Friday morning at 8 a.m., with the day's presenters including Mylle Mangum, Chairman and CEO of International Banking Technologies Enterprises; Dr. Jeffrey Rosensweig, Director of the Global Perspectives Program at Goizueta Business School of Emory University; and Peter White, Founder and President of The Southern Center for International Studies. The three are top ranking international business professionals whose knowledge of the field is renowned and experience spans the globe.
The symposium is expected to adjourn before lunch.
The event is free and open to the public. For more information, please contact Chair of the International Business Symposium Committee Jamye Long at (662) 846-4420 or jlong@deltastate.edu.