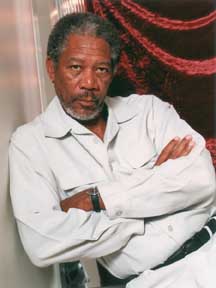 His list of accomplishments is long; his list of accolades even longer. And on Saturday, May 13, as part of Delta State University's 79th Spring Commencement services, Hollywood icon, Morgan Freeman, will add an honorary degree from Delta State to his already impressive résumé.
"It will be an honor to have Morgan Freeman on campus to accept his degree, and it is an honor for Delta State University to recognize such a quality humanitarian with this degree," Delta State President, Dr. John Hilpert offered. "Mr. Freeman's commitment to the Delta has been steadfast and solid. He has never forgotten his native roots and we applaud him for that."
Delta State University will be awarding its third-ever honorary degree to Freeman Saturday, May 13, at 10 a.m. inside Walter Sillers Coliseum on the Delta State campus. He will be receiving the honorary doctorate of Arts and Letters, for which he was unanimously approved by the Institutions of Higher Learning's Board of Trustees.
It was specified, during the call for nominations, that persons nominated for an honorary degree should be only individuals who have made significant and meritorious contributions to the university, higher education generally, or other areas of society. Expected areas of achievement included, but were not limited to, outstanding creative and scholarly work, distinguished leadership or service, significant accomplishments, or exceptional philanthropic support.
Freeman's qualifications far exceeded the requirements, as with his authoritative voice and trademark cool, calm and collected demeanor, the ever popular Mississippi native has grown into one of the most respected figures in modern American cinema.
He first appeared on television as several characters including Easy Reader, Mel Mounds and Count Dracula on the Children's Television Workshop (now Sesame Workshop) show, "The Electric Company." It wouldn't take long for Freeman to move from the small screen to the silver screen, and after small but still quality roles in different film titles, he earned his first, real distinction in 1987. That year, he garnered what would be one of four Oscar nominations for his portrayal of a merciless hoodlum in "Street Smart."
Freeman continued to dazzle, both, audiences and critics in one of the most endearing and memorable characters of his career, Hoke Colburn, the patient and dignified chauffeur opposite a moody pensioner, played by the late Jessica Tandy, in "Driving Miss Daisy." He would garner a second Oscar nomination for the role.
That same year, 1989, Freeman teamed with Matthew Broderick and Denzel Washington in the epic Civil War drama, "Glory." His star continued to rise in the early 1990s, highlighted most notably by his role in the Clint Eastwood directed, "Unforgiven." The film garnered three Oscars, including best picture and a directing award for Eastwood.
Freeman's dependably delivered work did not go unnoticed, as strong scripts with challenging roles continued to find the veteran actor. In 1994, he depicted a knowledgeable inmate who befriends the falsely accused banker, Tim Robbins, in the uplifting "The Shawshank Redemption." His performance yielded yet another Oscar bid, but it wasn't until 2005 that Freeman finally accepted a golden statuette from the Academy.
He again teamed up with good friend, Eastwood, to appear in the heart-wrenching drama, "Million Dollar Baby." Freeman's on-screen performance as ex-prize fighter Eddie "Scrap Iron" Dupris, was critically acclaimed and impressed the Academy's voters enough to win the Best Supporting Actor Oscar.
In addition to his film work, his commanding yet mellifluous voice has also led Freeman to be cast to narrate or host dozens of first-rate television specials covering topics from the American Civil War, the American Film Institute, the White House and most special to him – the blues.
Freeman's restaurant, Madidi, which he co-owns with local attorney, Bill Luckett, is located in Clarksdale, the heart of the Mississippi Delta and most proclaimed for its rich blues history. In addition, the tandem opened Ground Zero Blues Club in 2001.
Freeman and his wife, Myrna Colley-Lee, currently reside in Charleston (Miss.).
Delta State's commencement ceremony is not open to the public, as seating is limited and reserved to the graduates' families and friends only. Each graduate has been allotted eight tickets.
However, in an effort to accommodate overflow possibilities, Delta State has arranged for extra seating in the Bologna Performing Arts Center. Attendees will be able to view the ceremony through a live-broadcast feed to the theater.
For more information on Delta State's 79th Commencement exercises, please contact University Relations at (662) 846-4675.