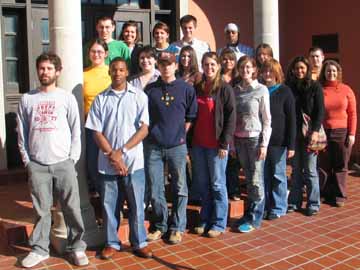 In an academic year heralded as the "Year of Cleveland," Delta State University is paying special tribute to the over eight-decade long, positive town and gown relationship shared between Cleveland and the University.
It is a relationship the Delta State art department understands and recognizes, as Bill Lester, Chair and professor of art, explains, "For years, we, in the art department, have been blessed with the community's support, and I don't just mean lip support. I mean real, dedicated, committed support to the happenings and progress of this Delta State University art department. The community believes in the art department.
"Every time we have an event, the community is here," he continues. "Every time we make a call for donations, the community answers that call. We are in a fortunate situation to be as supported as we are in the community. We recognize that."
And, this year's Student Art Show proved no exception, as the community, again, answered the call – loudly, in the form of $5700 worth of monetary support. That figure climbed $1800, compared to last year's $3900 in prize money.
Of the 340 collective entries, just over 100 pieces were selected for display in this year's student art show, with 40 receiving awards. The art department employs the services of a juror to select show entries and prize winners, as to remove any bias from the selection.
New to this year's awards included the Delta State University Cabinet Award.
"We'd like the to thank the administration for their continued support to the Delta State University art department, as well as extending thanks to all those who have and continue to support the art department," Lester offered. "We feel like we can't say thank you nearly enough."
The Delta State University Student Art show is free and open to the public, and will be on exhibit through Thursday, March 23 with some pieces available for sale. For more information, please contact the art department at (662) 846-4720.
Photo Identification: The following students have recently won awards for their work in the Student Art show currently on display in the Wright Art Center Gallery on the Delta State University campus: (front row, from left) Josh Hobbs of Cleveland, Jutta Karnstedt Ferretti Award, Bonnie and Luther Brown Award; Boris Potts of Indianola, Dr. Richard Strahan Award; T.J. Denson of Clinton; Brisbane Baird of Cleveland, Greenville Arts Council Award; Ashby Foote of Jackson, Caroline Gaines Award, Mr. and Mrs. Edward Kossman Award, Mr. and Mrs. Robert Hall Rob Hall Memorial Award, Lee and Pup McCarty Purchase Award; Carlie Jenkins of Leland, The Cleveland State Bank Award, Mike and Nan Sanders and Pam Mathews Purchase Award, Dr. and Mrs. Charles Small Sculpture Award; Luz Bonta of Honduras, Planters Bank Award, Ford and Shawhan Award In Honor of Carolyn Norris; Mandie Carollo of Leland, DSU Cabinet Award, AAUW Promising Female Art Student Award, Ad-Venture Frames Gift Certificate Award; (2nd row from left) Erin Drummond of Greenville, Mrs. Keith Dockery McLean Award, Lisa Percy Award, Jeri McArthur Fiber Award, Chester Kossman Award, Dr. and Mrs. Charles Small Ceramic Award; Lauren Tolbert of Water Valley, Good Company Photography Award, Ashley Jones of Greenville, SGA Award; Tamar King, Carol Tatum Award; Lauren Russell of Madison, Bud Tate Purchase Award for Tate Collection; Brian Byrd of Southaven, Beth and Gerald Jacks Graphic Design Award; (3rd row from left) Matthew Downs of Howell, Mich., Follette Bookstore Gift Card Award; Amy Potin of Greenville, Coopwood Communications Graphic Design Award; Laura Beth Lott of Senatobia, Latham Children and Grandchildren Award in Honor of Dorothy Dykes Latham, Maureen and Burrow Brooks Fiber Award; Eddie Lance of Oxford, Judy Wilson Interiors Award; Littrell Lane of Winona, Brown Special Addition Book Award for Art Inspired by the Natural World.
Not pictured: Sarah Teasley of Madison, Mr. and Mrs. Henry Flautt Award In Honor of Malcolm Norwood, Dr. and Mrs. Jason Morris Award; Abe Draper of Merigold, Dr. and Mrs. Hugh Cam Smith Photography Award; Anna Lucas of Meridan, David and Marcia Walt Award.