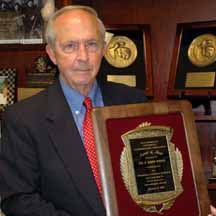 Delta State University President Emeritus Dr. Kent Wyatt was recently honored by the National Collegiate Athletic Association (NCAA) Division II Conference Commissioner's Association with an Award of Merit for his 14 years of association with the NCAA.
Wyatt, who served 25 years at the helm of the university, was recognized this past fall in Indianapolis at a banquet. His service to the NCAA included serving on the Executive Director Search Committee in 1993, pre-federation President's Commission (1992-1996), Amateurism Project Team and the Gender Equity Committee. His leadership extended to the chairman position on the Student Advisory Committee, Athletics Certification Study Committee and the Division II Project Team Eligibility effort.
Of the distinction, Wyatt offered, "I was highly honored to be recognized by the NCAA Division II Conference Commissioner's Association. They are a significant leadership group in the NCAA. To be recognized after being retired for six years came as a surprise, and it was very much appreciated."
Initiated in 1992 to promote its member conferences and institutions, the Division II Conference Commissioners Association has made its mark in providing a united front for NCAA Division II athletics programs. The DII CAA continues to create lines of communication and opportunities for its 22 member conferences.
Wyatt's reception marks the eighth time in history the award has been presented.