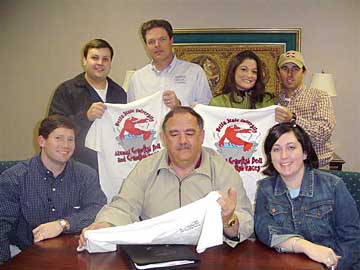 The Bolivar County Alumni Association's Crawfish Boil Planning Committee met recently to discuss the annual "Mudbug Celebration," scheduled for Thursday, May 4. Pictured (l. to r., front row) Ryan Short; Bill Quinton, chapter president; Callie Towles; (l. to r., back row) Paul Mancini; Jim Avery; Rileyann Smith; and Michael Aguzzi. Not pictured Johnny Arnold.
The Delta State University Bolivar County Alumni Chapter will host its annual "Mudbug Celebration," Thursday, May 4 at 6:30 p.m. inside the Hugh Ellis Walker Alumni House.
As part of this year's Cajun festivities, crawfish races will return after a successful debut last year. Ten crawfish, provided by Dr. Jim Avery of Stoneville, will compete in three heats. The crawfish, each bearing the name of a different Delta State head coach, will be let go in the middle of a circle and the first to make it to the edge will be victorious. Races are slated to begin at 6:45 p.m.
On the menu for the evening will be crawfish, fried chicken, corn, potatoes and beverages. Dinner will be served at 7 p.m. Tickets are $12 per person, all you can eat. Casual dress is recommended.
The night's program also includes special recognition of all Delta State head coaches.
All alumni, friends and community members are invited to attend. For more information on the 2006 Bolivar County Alumni Crawfish Boil, please contact Vicki Fioranelli, Director of Alumni, at (662) 846 – 4660. Attendees are encouraged to stop by the Alumni House, Highway 8, to purchase advance tickets.