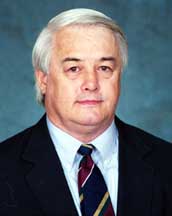 The collective Delta State University community is mourning the loss of Dr. Walter Valentine (Val) Hinton III this morning, as the professor of finance passed yesterday afternoon at his Cleveland residence.
Hinton, 63, had over 24 years of cumulative service to Delta State, serving as an assistant professor of finance seven years (1974-1981) before returning to the University in 1989, where he remained until his untimely passing.
"Val was always committed to his students. We can absolutely say teaching was his life," Dr. Billy C. Moore, Dean of the College of Business and fellow professor of finance at Delta State, offered. "He was truly committed to this University and we are extremely saddened by his passing."
A native of Louisville, Ky., he graduated from Seneca High School in 1961 before pursuing his undergraduate degree in Business Administration from Florida State University. He completed his MBA from Louisiana State University in 1971, his Ph.D. from the University of Arkansas and soon after returned to FSU to finish work on his postdoctoral studies in 1982.
In addition to DSU, Hinton had teaching stints at Jackson State University (1981-1983) and Tennessee Tech University (1983-1989). He was also a retired airman, having served with the United States Air Force four years (1965-1969). Before his honorable discharge, Hinton held the rank of Captain.
"Dr. Hinton was an excellent teacher whose dedication to his students was evident in his many years of service at Delta State," remembered Dr. Cooper Johnson, Delta State Chair of the Division of Management, Marketing and Business Administration. "Throughout his tenure, he was held in high regard by his students, fellow faculty, and administrators".
An avid and staunch supporter of Delta State athletics, Hinton rarely missed an event. He, himself, lettered for the Seminoles in basketball. His support, however, was not limited to athletics, as Hinton could always be counted on to champion the many Renaissance outings, as well as the Miss Delta State pageants.
He was a member of the First Baptist Church in Cleveland, and is survived by his son, Greg; two sisters and numerous aunts, uncles and cousins.
Visitation will be Wednesday, Jan. 25, 6 p.m. – 8p.m. at Ray's Funeral Home in Cleveland. There will be a funeral service at First Baptist Church, Thursday, Jan. 26 at 10 a.m. before his body is returned to his native Kentucky for burial.