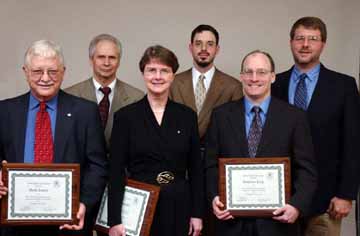 (Front Row, L to R)

Reid Jones

,

Donna Banks

,

Stephen King

; (Back Row, L to R)

James Tomek

,

John Green

,

Scott Hutchens
The Delta State University Foundation continued its long-standing support of faculty today, as its 2006 recipients of the Delta State University Foundation Prizes for Excellence in Teaching, Research and Service were announced inside the State Room on the campus.
Dr. Donna Banks, professor of music, and Dr. James Tomek, professor of French, were both honored with the Excellence in Teaching Prize; while Dr. Scott Hutchens, associate professor of Psychology, and Dr. Stephen King, professor of speech communications, were recognized with the Excellence in Research Prize. Dr. John Green, assistant professor of Sociology and Community Development, and Dr. Reid Jones, professor of Psychology were awarded for their distinguished service.
After a lengthy and rigorous application process, winners were selected by a committee, with award recipients receiving a plaque and $5000 check honoring their accomplishments.
During the luncheon award ceremony, Delta State President Dr. John M. Hilpert opened, citing poet William Butler Yeates, "Education is not the filling of a pail, but the lighting of a fire. These six professors being recognized today understand that. They have been identified as the best of the best by their peers, and we thank the Foundation for making the resources available to recognize their dedication."
Dr. John Thornell, Provost and Vice President of Academic Affairs, concurred, offering, "We thank the Foundation for its vision, and we thank all of our faculty for their dedication. Today's award winners exemplify the best of the best at Delta State University."
Keith Fulcher, Executive Director of the Delta State University Alumni-Foundation, also praised, "The Delta State University Foundation Board of Directors are pleased to partner with the University in recognizing faculty members who are dedicated to their profession and who excel in the areas of teaching, service, and research. The Foundation's mission is to help provide private support to the University and the Board commends Dr. Hilpert and Dr. Thornell for their decision to honor outstanding faculty. The Foundation Board invites alumni and friends of the University to support its work by making tax deductible gifts through the Foundation for use by the University."
Excellence in Teaching
Now in her 17th year of service at Delta State University, Dr. Donna Banks divides her teaching focus between foundation courses for young music majors and applied piano for a large number of keyboard majors. Having a broad, diversified background as a piano educator, Banks has pursued that mission in the city of Cleveland. In 1990, she started the Delta State University Prep Piano program that matches local children to college music students for lessons and recitals. Banks is active on the board of the Mississippi Music Teachers Association and has served as President, Immediate Past President, Vice-President for Competitions, Secretary and Parliamentarian. She has also hosted local auditions on campus every spring for the last 16 years. Both her college and pre-college students have played many award-winning performances statewide. Equally satisfying to Banks, many of her students have gone on to pursue graduate degrees in music.
Of the day's recognition, Banks, "I teach many foundation courses to freshman and sophomores and after 17 years, one would think that I would be bored. My experience, however, is just the opposite. Seeking fresh ways to clarify difficult concepts to struggling young students gives me a renewed sense of mission each year and reminds me of the impact teachers have had on my own life.
"I am also surrounded by dedicated professionals who stimulate me to be the best that I can be for our students," she continued. "The combined sense of mission and work with colleagues helps to create an atmosphere where students simply have to learn."
The Foundation also recognized Dr. James Tomek and his 30-plus years of service at Delta State University. His recent master's in theological studies from Spring Hill College complements a doctorate in French Literature from Duke University. A professor in all levels of French language and literature, including much experience in elementary and intermediate French, Tomek co-authored his own textbook, Fast French, with wife, Yvonne Tomek and Anne Marie Bryan. Surveys of French literature, along with interdisciplinary classes in twentieth century literature and critical theory where he attempts to deepen reading skills in the intertextual study of film, philosophy, theology, music, art, and business have been a trademark of his teaching career. Tomek also co-authored Windows after Matisse with Terry Everett and May Anne Ross. The book is an interdisciplinary study containing original art, poetry and literary criticism. Just recently, he served as editor to this year's "Tapestry," the Division of Languages and Literature's literary magazine.
"This is one of the high moments, if not the highest, in my teaching life at Delta State," a visibly excited Tomek lauded. "To receive a 'certified' commendation of this cherished vocation is most gratifying. The fact that my colleagues think I am a good teacher is very reassuring. I will put this commendation on the 'eternal' résumé of my heart as I continue to search for my vocation in the act of leading students to theirs."
Excellence in Research
Since arriving at Delta State in 1998, Dr. Scott Hutchens, an associate professor of Psychology, has published 15 research papers and has presented over 50 professional research presentations in the areas of eyewitness identification, text comprehension, instructional technology, distinctive (bizarre) memories, models of memory, and social cognition. His work has been published in The Journal of General Psychology, The American Journal of Psychology, Psychonomic Society, T.H.E. (Teaching in Higher Education) Journal, Delta Education Journal, Academic Exchange Quarterly, and as chapters in books. In 2005, Hutchens was awarded the DSU College of Education Research Excellence Award and has recently had three papers nominated for Outstanding Research Paper at the Southeastern Psychological Association (2005 & 2006) Conferences.
A strong proponent of the value of undergraduate research experience, he has dedicated countless hours outside of the classroom to mentoring psychology undergraduates in experimental research. Hutchens' undergraduate researchers have consistently reported research findings for over 30 professional presentations and have won the Mid-South Psychology Conference Research Competition the last two consecutive years. Hutchens also serves as the Delta State Psychology Program Coordinator, Editor of the Delta Education Journal, Psi Chi (The National Honor Society in Psychology) Faculty Advisor, and is also a leader at Delta State in the use of instructional technology.
Hutchens offered, of both research and the award for research, "I am very honored and appreciative to have been chosen to receive the Delta State University Faculty Prize Award in Research. Engaging in research is important to the University because it serves as means for faculty and students to increase their knowledge and hone their skills in their field of study. It is also through conducting research that one becomes a more effective and knowledgeable instructor. I deeply appreciate the University's and the Foundation Board's commitment to supporting faculty research and the Foundation Board's commitment to supporting the Research Prize."
A fellow advocate of research, Dr. Stephen King received his doctorate in speech communication from Indiana University in 1997. In December 2002, the University Press of Mississippi published his book, "Reggae, Rastafari, and the Rhetoric of Social Control." King has also published articles in a variety of journals, including the Howard Journal of Communications and the Journal of Communication and Religion. Moreover, King has presented 28 conference papers at regional and national conventions. He is currently working on his second book project on blues tourism in the Mississippi Delta. The book project has already yielded two published articles, "Race and Blues Tourism: A Comparison of Two Lodging Alternatives in Clarksdale, Mississippi" and "Blues Tourism in the Mississippi Delta: The Functions of Blues Festivals." In addition, two essays recently received the Top Paper Award in their respective divisions from the Southern Speech Communication Association. In April 2006, King's essay, "Protest Music as 'Ego-Enhancement': Reggae Music, the Rastafarian Movement, and the Reexamination of Race and Identity in Jamaica," will be published in the edited book, "The Resisting Muse: Popular Music and Social Protest."
"It is, indeed, an honor to receive this prestigious award. The Foundation Board should be congratulated for creating such an important awards program. As faculty members, we are all expected to teach and mentor students, conduct research, and provide service to the university, community, and our respective academic organizations. Until recently, however, faculty members were rarely recognized for their research efforts. This event is definitely a big step in showcasing the importance of research at Delta State University," King maintained.
"Research is an intrinsic part of the health of any institution of higher education. From my own experience, my research has made me a better instructor. I have also had the opportunity to share my work with the local community as well as regional and national audiences. Delta State can only benefit from this type of exposure," he concluded.
Excellence in Service
Dr. John Green is assistant professor of sociology and community development at Delta State University where he also serves as graduate coordinator for the Master of Science in Community Development Program. Additionally, he is the founder of the Institute for Community-Based Research, a collaborative partnership between the Division of Social Sciences and the Center for Community and Economic Development. The Institute works with students, faculty and community organizations to engage in applied research. Green's personal research and teaching interests include participatory research methods, sociology of food and agriculture, rural poverty, access to health care, and globalization. He received his bachelor's degree in Political Science and master's degree in Sociology from Mississippi State University, where he worked as a Research Assistant at the Social Science Research Center. Green later obtained his doctorate in Rural Sociology from the University of Missouri-Columbia. His dissertation was on the topic of community-based cooperative organizations in the southern United States. He resides in Cleveland, with his wife, Eleanor, and their two children, Tony and Edye.
"Universities have a tripart mission: teaching, research and service. The DSU Foundation Faculty Prizes provide special recognition for those who have gone to great lengths to support this mission. I believe we can best pursue the mission of the university through a framework of service – service to students, the community, region and society as a whole," Green levied.
"I attempt to do this by engaging students with community-based organizations to conduct applied research that is useful for informing development efforts in the region. I integrate this with my teaching, thereby facilitating hands-on learning. In the end, I trust that we contribute to the greater public good. I am heartened to receive support for this type of service, and I am excited to share in this celebration with the other award winners," he finished.
Since his arrival on campus in 1985, Dr. Reid Jones, professor of Psychology, has had an active record of service to his profession and to the University. He has been President of the Mississippi Education and Research Group, Student-Faculty Research Coordinator for the Southeastern Psychological Association, and served the Mississippi Academy of Sciences as a board member and chair for the Divisions of Social Science and for Psychology and Neuroscience. He was on the national Board of Directors for the Grant Resource Center at the American Association for State Colleges and Universities. He also served for eight years on the Board of Directors for the Mississippi Alliance for Minority Participation. He has written over 40 successful grant applications for psychology, social sciences, education, chemistry, nursing, and science and mathematics education. These grants provided much needed services and resources for the Mississippi Delta. Within the University, Jones has served as Academic Research Coordinator, Chair for the Research Committee and the Institutional Review Board, and Program Coordinator for Psychology. He has also assisted hundreds of faculty, graduate students and undergraduates as a research and statistical consultant.
"Service has a higher priority at regional universities than at almost any other type of institution of higher education. For the here and now, for the everyday needs of a region like the Mississippi Delta, the service from a regional university can accomplish enormous good. I believe that Delta State does that, and I am proud to contribute. I am deeply appreciative of this award, and I would like to sincerely thank the DSU Foundation Board for their generosity in supporting Service," Jones offered of his recognition.