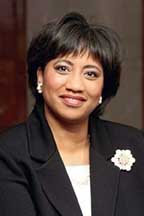 Gwen Sykes
Delta
State
University
's 79th Spring Commencement services will be held Saturday, May 13, at
10 a.m.
inside Walter Sillers Coliseum on the campus, with Gwen Sykes, Chief Financial Officer for the National Aeronautics and Space Administration (NASA), to deliver the keynote address.
Through her leadership, Sykes ensures the financial health of NASA, including responsibility for ensuring that the organization's resources are effectively employed toward the achievement of its strategic plan. She manages NASA's budget and financial operations, directs the preparation and submission of financial and budgetary reports, while also coordinating Agency financial management activities with other federal agencies. She is also an active participant with other agency CFOs in supporting implementation of the President's Management Agenda.
Sykes joined NASA in November 2002 when she was selected as the Deputy Chief Financial Officer for Financial Management. Since that time, she has made significant strides towards improving agency-wide financial integrity. She has launched several management initiatives, aligned with principles of the Federal Government's Joint Financial Management Improvement Program (JFMIP), designed to improve NASA's financial health and performance. Her leadership and resourcefulness are invaluable assets to the NASA community.
In 2003, Sykes was awarded the NASA Exceptional Achievement Medal for outstanding budgetary and financial management leadership of the NASA financial community. She is considered an expert in the areas of accounting and financial management, and frequently lectures at a variety of financial management conferences and symposia.
She holds a bachelor's degree in accounting from The Catholic University of America and a master's degree in public administration from The American University. She is a Certified Government Financial Manager.

Delta State University is expected to graduate over 425 students during its spring commencement ceremony.
The commencement ceremony is not open to the public, as seating is limited and reserved to the graduates' families and friends only. Each graduate has been allotted eight tickets.
However, in an effort to accommodate overflow possibilities, Delta State has arranged for extra seating in the Bologna Performing Arts Center. Attendees will be able to view the ceremony through a live-broadcast feed to the theater.

For more information on Delta State's 79th Commencement exercises, please contact University Relations at (662) 846-4675.