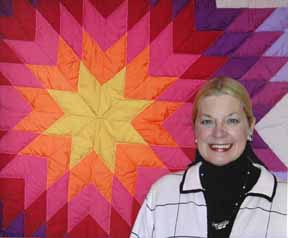 Avid collectors, Delta State University President Dr. John M. Hilpert and his wife, Pat, will be donating personal collections to the upcoming Archives exhibit, "Cleveland Collects." Above, First Lady Hilpert displays a quilt from her own collection. The couple will be displaying their collections of Boy Scout badges and antique American political buttons during the exhibit, which will open, Thursday, Jan. 26.
The Charles W. Capps, Jr. Archives and Museum, on the campus of Delta State University, is making an official call to all collectors to participate in its upcoming exhibit, "Cleveland Collects."
For the past eight years, the Delta State University Archives has been sharing its collections with the Delta and surrounding communities. Today, the DSU Archives and Museum is asking community members to share their personal collections with Delta State and Cleveland.
"As part of the 'Year of Cleveland' celebration, we were really looking for a way to involve the community," University Archivist Emily Weaver noted. "We wanted it to be fun and something the community would want to get involved in. I truly believe 'Cleveland Collects' will do that and we're very excited about the exhibit."
"Cleveland Collects" is set to open Thursday, Jan. 26 with a reception planned inside the Simmons Room at 6:30 p.m. Entries for the exhibit must be received by Jan. 20.
"We've already had several community members inquire about the exhibit," Weaver continued. "Our President and First Lady (Dr. John M. and Pat Hilpert) have already committed several of their collections to the exhibit, as well as Mrs. Vicki (Fioranelli, Director of Alumni Affairs.) She will be displaying her collection of teapots."
The Hilperts have several collections, ranging from antique American presidential campaign buttons to a collection of Boy Scout badges.
Participants are encouraged to donate early, as the exhibit will be first-come, first-serve. Each collection will be issued a climate-controlled case for display, with full safety guaranteed. Collectors are asked to submit a description of their collection. The Archives and Museum staff will be responsible for printing labels and identifiers. All collections will be returned in full at the close of the exhibit.
Scheduled to run Jan. 26 – March 13, Delta State will host a second exhibit reception, Thursday, Feb. 9 in the Simmons Room at 6:30 p.m. to announce to the winner of "The Viewer's Choice" award. Visitors to The Capps Archives and Museum, between Jan. 26 – Feb. 8, will be asked to vote on their choice of the most original display.
For more information on "Cleveland Collects," please contact University Archivist Emily Weaver at (662) 846-4781.