Delta State awards Capps with honorary degree at fall commencement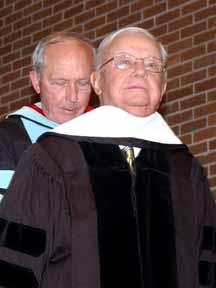 Delta State University awarded an honorary degree to Charles W. (Charlie) Capps at its 79th Fall Commencement this morning inside Walter Sillers Coliseum on the campus.
A native of Cleveland, Capps served 33 consecutive years in the Legislature, as the District 28 Representative in the Mississippi House of Representatives. Known and respected as an able and dedicated legislator who effectively represented the citizens of his District and State, Capps was affectionately called "Mr. Chairman" for his many years serving as Chairman of the House Appropriations Committee and as Chairman of the House Constitution Committee.
"Delta State University had no greater friend in the House of Representatives than Charlie Capps," noted Delta State University President, Dr. John M. Hilpert. "A true statesman, Mr. Capps always put the best interests of this university and the Mississippi Delta at the top of his list of priorities. We are privileged to honor this important Mississippian today."
Delta State University confers the honorary degree to individuals who have made significant and meritorious contributions to the university, higher education generally, or other areas of society. Expected areas of achievement included, but were not limited to, outstanding creative and scholarly work, distinguished leadership or service, significant accomplishments, or exceptional philanthropic support. Capps was conferred the degree, Doctor of Public Service, honoris causa, with all traditional rights, privileges, and responsibilities. Dr. Kent Wyatt, President Emeritus of Delta State University and a long-time friend of Capps, assisted with the hooding.
Of his degree, the newly conferred Dr. Capps, offered, "I am highly appreciative and highly honored for this recognition. It is a true honor."
In addition to serving in the Legislature, Capps held top leadership positions in several community and civic organizations including the Cleveland-Bolivar County Farm Bureau, United Way and Delta Area Council of the Boy Scouts of America. He is past president of the Delta Council, a non-profit economic development organization serving the 18 Delta counties. Capps has also served as President of the Cleveland-Bolivar County Chamber of Commerce and received the Chamber's prestigious Kossman Award.
Capps was married to the late Allen Hobbs for 55 years. Together, they have three children – Alinda Sledge of Cleveland, Margaret Allen of Greenwood, and Charlie Capps III of Cleveland – and eight grandchildren.
Capps joins Dr. Elbert R. Hilliard as the only two in the history of Delta State University to receive honorary degrees.