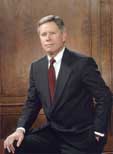 Add yet another accomplishment in the list of many to Delta State University alumnus William N. (Bill) LaForge's resume. A shareholder at Winstead Sechrest & Minick P.C. specializing in government relations/public policy, LaForge was recently named president-elect of the Federal Bar Association. He assumed his leadership role at the organization's annual conference this month in Ft. Lauderdale. In 2006, he will become national president at the annual convention to be held in Las Vegas in August.
For more than 30 years, LaForge has been involved with the public policy arena at local, state and federal levels and has extensive experience in the processes of government. On Capitol Hill, LaForge was chief counsel of the U.S. Senate Appropriations Subcommittee on Agriculture and culminated his government career as Chief Legislative Counsel and Chief of Staff to U.S. Senator Thad Cochran of Mississippi. Previously he served as congressional liaison for the Peace Corps and as a legislative assistant to Mississippi Rep. David Bowen.
LaForge is a member of the District of Columbia Bar and State Bar of Mississippi, and he is admitted to practice before the U.S. District Court (No.Dist., MS) and the U.S. Supreme Court. He is also a member of the American League of Lobbyists, and a CLE faculty member for the DC Bar.
LaForge has served the Federal Bar Association as national vice president, treasurer, secretary, deputy secretary, section coordinator, membership committee chair and government relations committee chair. He has served as a trustee of the Delta State University and the Pi Kappa Alpha educational foundations, and he is past national president of both the Delta State University Alumni Association and the Pi Kappa Alpha Fraternity. He is past president of the Association of Former Senate Aides, and is an adjunct professor at George Washington University.
LaForge graduated with honors with a B.A. in history from Delta State University, and today still cites his DSU education as the foundation to his success. "The terrific, well-rounded education and overall experience I had at Delta State prepared me well for my further studies and career pursuits. Without question, lessons I learned as a Delta State undergraduate have continued to serve me well throughout my career," he explained. "For me, Delta State is extended family. It's not like coming home, it is home."
He would go on to receive his law degree from the University of Mississippi School of Law, received an LL.M. in international law from Georgetown University, and studied international law at Cambridge University. He received fellowships to study government and public policy in the European Union and at the Kennedy School of Government at Harvard University. An avid runner and a triathlete, he has completed 60 marathons, including 24 Boston Marathons, and he has logged more than 60,000 miles of running.
Winstead Sechrest & Minick P.C. is among the largest business law firms in Texas. With more than 300 attorneys, the Firm provides regional, national and international clients access to a broad range of business legal services representing more than 30 practice areas. Winstead has office in Austin, Dallas, Fort Worth, Houston, San Antonio, and The Woodlands, Texas; and Washington D.C. For detailed information about Winstead, visit winstead.com.