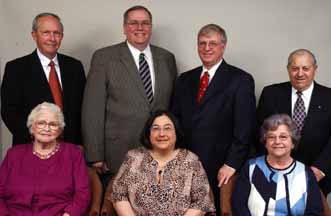 Danny (back row, third from left) and Deborah Barfield (seated, middle) have made a $1 million gift of a life insurance policy to Delta State University Foundation. Their gift is given in honor of their parents Myrl Barfield (seated, left), Reno (back row, far right) and Lillian Borgognoni (seated, right) and in memory of Knox Barfield who died in 1989. The Barfields will make annual premium payments to the Foundation who they have named as owner and beneficiary of the policy. The Barfields recently met with Dr. John Hilpert (back row, second from left), president of Delta State, and Dr. Kent Wyatt (back row, left), president emeritus, to announce their gift.
There is always that common thread, that unifying force that will align every past, present and soon-to-be student at Delta State University – their hopes and dreams. Every student enters Delta State University with high hopes and grand dreams of success, just as Danny and Deborah Barfield did over 30 years ago.
This week, inside the Hugh Ellis Walker Alumni House on the Delta State campus, the Barfields made one of those dreams come true, as the couple donated a $1 million life insurance policy to their alma mater. Both Danny and Deborah, a former Borgognoni of Clarksdale, had always hoped to be able to give back to Delta State University at a level that signified the important role the institution played in shaping their lives.

With their generous gift, the Barfields will help turn the dreams of future students into reality. Of the couple's charitable gift, Danny offered, "Deborah and I have been considering for some time how to show our support for Delta State University. We believe Delta State University is the greatest institutional asset of the citizens of Cleveland, Bolivar County and the region."
"It is hard to imagine Cleveland without Delta State," he continued. "Our gift, therefore, is a small investment to provide the same benefits for future generations that have been afforded to us."
A 1972 graduate of Delta State, Danny is the Senior Partner in the accounting, financial services and asset management firm of Barfield, Lindsey, Salley & Bailey, PLLC. Founded in the 1940's, the firm has been offering accounting services for over six decades and began offering financial services and asset management assistance in 1996 in both Cleveland and Oxford. Barfield is one of the founders and the majority stockholder in Boyle Lumber Company located in Cleveland and Greenwood.
He and his wife, Deborah met while at Delta State, and are not the only members in their families to attend the University. Deborah's siblings, Brenda B. Robinson of Clarksdale; Cindy B. Cocilova of Cleveland; Reno Mark Borgognoni of Atlanta; and Jerry Borgognoni of Cleveland; also attended DSU, while Danny's siblings, Wayne Barfield of Gainsville, Fla.; and Carolyn B. Wilburn of Flora, also attended the University.
"Our two sons and our daughter attended Delta State, too," Barfield reported proudly. "In addition, Deborah and I have had so many nieces and nephews on both sides of our family attend Delta State that we have literally lost count."
But it was their parents, Myrl Barfield, of Bruce, and the late Knox Barfield, and Reno and Lillian Borgognoni of Clarksdale that truly inspired the gift. "This gift is made to Delta State University in honor of our parents in recognition of the sacrifices they have made to our well-being and the well-being of our children and grandchildren," Barfield praised. "My father passed away December 26, 1989. He was not an educated man but he understood the value of an education better than any man I ever met."
"It is an absolute joy to have the Delta State Foundation as a vehicle to transfer this appreciation for their efforts forward to future generations. We make this gift with the greatest confidence that the future of Delta State University and the Delta State Foundation is in very capable hands," he continued.
Of the Barfield's contribution, Delta State President, Dr. John M. Hilpert, lauded, "I commend and thank Deborah and Danny on their decision to make a gift of that magnitude to Delta State. Their family's legacy with the University is evident in the many degrees they have earned from Delta State and their gift is a testimonial to the type of relationship that we aspire to have with all of our alumni."
Executive Director of the Delta State University Foundation, Keith Fulcher, noted, "The Barfield's philanthropic act is one of the most outstanding that I have been a part of at the Delta State University Foundation. It sets an example of giving that I invite other alumni and friends to emulate.
"Many of our alumni and friends would like to make a significant gift to Delta State and life insurance is an often overlooked and underestimated asset to donate. Sizable gifts, like the Barfield's $1 million gift, can be made at a relatively low cost through a new life insurance policy with Delta State University Foundation named as both the beneficiary and owner of the policy," Fulcher continued. "The Foundation encourages gifts of life insurance policies and other types of planned gifts that will one day benefit the students of Delta State and provide for the future of the University."
Current Foundation President, James A. "Jimmy" Newquist, added his appreciation offering, "The Delta State Foundation is proud to partner with Delta State and work together with great people like the Barfields who want to honor and preserve what Delta State has meant to so many. Budgets and funding in today's time make it more important than ever that people like Danny and Deborah are willing to be so generous and the Foundation is very grateful for their support."
Dually, Ned Mitchell, chair of the Foundation's Campaign committee and a DSU alumnus, himself, praised, "The gift to Delta State by Danny and Deborah is a grand example for other alumni. This is a wonderful and heartfelt contribution by the Barfields. On behalf of the DSU Foundation, I want them to know how much we appreciate them."
It was Mitchell, though, combined with the efforts of Delta State University President Emeritus, Dr. Kent Wyatt that worked in prompting the Barfields to action.
"We have been inspired, especially by the unselfish efforts of my friends, Ned Mitchell and Dr. Kent Wyatt. Their efforts, on behalf of Delta State University, have not gone unnoticed," Barfield said.
Wyatt reciprocated, offering, "It is rewarding that former students' love for the University is expressed in such a fabulous way. The Barfield and Borgognoni families have a long legacy of attending Delta State and their gift is an acknowledgement of their commitment to providing resources for the next generations of Delta State students."
Gifts to Delta State to cover premiums are deductible for those who itemize and can be in the form of capital gain property for a second tax savings. For more information on the advantages of making a gift of life insurance to Delta State University, please contact the University Foundation at (662) 846.4708 or e-mail gmiller@deltastate.edu.