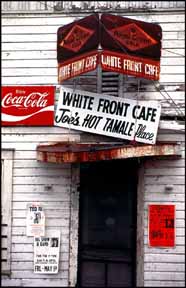 One of the first and most endearing pieces in the series is a shot of The White Front Café in Rosedale. Other works by photographer Debra Ferguson will be on display at Delta State University's Capps Archives and Museum Building as part of "The Vanishing Delta" exhibit, set to open Sunday, March 26.

Photographer Debra L. Ferguson left the Mississippi Delta in the early 1970s but, as she puts it, "The Delta never left me." Fortunately, assignments and family kept taking her back to the region, and along the way she began capturing images of things and places that were fast disappearing.
A retrospective of this work, "The Vanishing Delta," opens Sunday, March 26 in Delta State University's Charles W. Capps Archives and Museum, with an opening reception planned for 3 p.m. inside the Seminar Room. Ferguson will be in attendance to deliver a program detailing her art.


A 1974 graduate of Delta State, Ferguson works as a magazine and advertising photographer, specializing in agricultural and rural lifestyle subjects. Her photography has appeared in Farm Journal, Progressive Farmer, Southern Living Travel and other publications. A prolific stock photographer, her images are represented by agencies in California, England and France and have appeared in ads, text books and magazines in the Americas, Europe and Asia.
She admits to being "a little obsessed about photographing certain Delta landmarks." When Ferguson drives past a familiar sight, like an old school or store, she often turns around and captures an image.
"I learned the hard way to stop, no matter how tight my schedule was, and compose a photo that says something about the character of the place," she explains. "There were times when I didn't stop, then I came through the next time and discovered that the building was gone, utterly erased. At one time it had maybe been the center of a community that, itself, thrived for a time and then dwindled to nothing."
Indirectly, Ferguson is describing Skene, the farming community just outside of Cleveland where she grew up. She remembers when several stores operated at or near the crossroads, and the surrounding countryside was home to scores of small farmers and the families that lived and worked in those fields. In her earliest recollections, two schools served that patch of Bolivar County, and several churches prospered in and near Skene.
Now, she says, very little of it remains. Except for a small cluster of homes and the Baptist Church, just about everything else has been torn down or reduced to an empty shell. Communities like that disappear a little at a time, she says, and people who are closest to the place don't see the decline as dramatically as someone like herself who comes and goes over the decades.

"The Delta partly mirrors what has happened across a wide part of rural America since World War II," Ferguson maintains. "Over the years, I've handled assignments in places as far apart as North Carolina and California, and nearly every time I go back to familiar communities, something is missing. Modern farming doesn't require as many people, so rural populations declined and their businesses and institutions slipped away a little at a time."
"The Vanishing Delta" exhibit, underwritten by Cleveland State Bank, includes images representing a wide portion of the region, from Tunica in the north to Yazoo City in the south. As this body of work grew and Ferguson began producing fine art prints, she began calling it her Vanishing Delta series. A web site, www.vanishingdelta.com, grew out of the work.


Ferguson says she noticed lately that many of the images have something to do with food or eating. One of the first and most endearing pieces in the series is a shot of The White Front Café in Rosedale. The cafe, which still survives, was founded by Joe Pope, a businessman who made his mark serving hot tamales to a mostly takeout clientele. As strange as it seems to outsiders, hot tamales are a Delta passion. They're served in some of the region's finest restaurants and in small eateries like the White Front.

Another spot in the series is Booga Bottom's, a country café that flourished for a number of years, doing business in an old country store east of Duncan. Ferguson walked into Booga Bottom's one afternoon in the 1970s.


"It looked like it had been there forever," she says. "Meringue was piled high on the pies, and they were served at lunch by the women who made them. I had heard about the place for years and, even though it had a busy lunch hour, I wondered how much longer a spot so far out could survive. I went back to my car, loaded a couple of cameras with the last black-and-white film I had that day, then asked if it would be OK to take a few shots."


The images capture a quiet Delta afternoon in a place that soon faded away. A couple of years later, Ferguson drove back to Booga Bottom's and found it abandoned and empty.


Ferguson's work also celebrates the ethnic history of the Delta. "I never pass up a chance to photograph a small-town store that still bears the name of a Jewish, Chinese or Italian family that owned it," she says. "Those signs say more about the history of a town than any historical marker. The Delta was one of the great meeting grounds in American history, and those stores and signs symbolize that fact."


Ferguson, a current resident of Jackson, jokes that she learned photography "by shooting a lot of bad pictures." Five years ago, she ventured into digital photography, and two years ago dropped film photography, altogether.


Her digital work has been featured in the New York professional journal, Photo District News, as well as in PC Photo. The exhibit includes a mixture of film and digital photography. All images are printed on giclée fine art canvas, with reproduction by Digital Imaging Group of Flowood, Miss.


Ferguson eschews the notion that she basically is photographing decay, something she often sees when photographers find their way to a place like the Delta "and fixate on rusty, abandoned pickups and dilapidated shotgun shacks."


"In many cases, I've probably recorded the last image of a landmark that was once important to many people, and I try to bring forward something of its purpose and its quiet dignity," she says. "These places are worth remembering, and when they're gone, it's for eternity."


Free and open to the public, the exhibit is set to run through May 4. For more information on "The Vanishing Delta" exhibit, please contact the Delta State Capps Archives and Museum Building at (662) 846-4780.