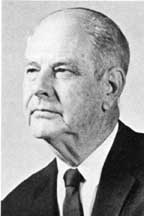 Despite his retirement on June 30, 1974, Dr. Henry Judson Jacob's long and lasting impression can still be felt on campus today. In recognition of his committed service to Delta State University, the Delta Room in Ewing Hall will be renamed The Henry J. Jacob Conference Center, on Friday, Oct. 7 at 10 a.m.
A 28-year veteran of the Delta State faculty, Jacob served loyally in the College of Education for all of his years on the Cleveland campus. A professor, first, Jacob served as head of the Education and Psychology department in the late 1950's, early 1960's, until becoming the Director of Graduate Studies in 1965. Jacob would later be promoted to serve as the Dean of the School of Graduate Studies in 1971, where he stayed until his retirement.
In a recent letter, Delta State alumnus, Dr. Bob Ferguson, remembered Jacob's contributions, offering, "We do not feel that Delta State would have the excellent reputation and quality graduate program in education that it has if Dr. Jacob had not been the driving force, leader and first Chairman of the Graduate School of Education."
The renaming ceremony is free and open to the public. All are encouraged to attend. For more information, please contact the Delta State Office of University Relations at (662) 846-4675.