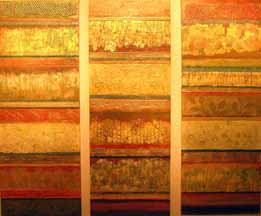 Jewel Triptych by Jim Seale
Now all successful in their own rights, five former Delta State University art students have returned to their alma mater for the exhibition, Five Painters, which is currently showing in the Wright Art Center Gallery. The showcase includes works from Katie Virden Byrd of Greenville; Robin Durand of New Orleans, La.; Jim Seale of Cleveland; Trevor Simpson of Memphis, Tenn.; and Robin Whitfield of Grenada.
A coffee reception for the artists will be held on Saturday, Oct. 29 from 10 a.m. – noon to coincide with Delta State's Homecoming activities. Friends and community are cordially invited to attend the reception and view the exhibit.
Katie Virden Byrd received the BA in art education and is presently teaching art at Eastside High School in Cleveland while also working on a Master's degree at DSU. A member of the Delta Artists Association, she is a prolific artist working in diverse media and styles. Byrd's inspiration comes from a love of color, the beauty of nature, and the grace of God. She began creating art in early childhood, and today presents both figurative and abstract works with intense use of color.
Robin Durand grew up in Hawaii and is the son and grandson of painters who became seriously interested in the color principles practiced by Tommy Thurmond, Gerald DeLoach, and Sammy Britt, Professor Emeritus of Delta State. He received a BFA from DSU and an MFA from LSU and is affiliated with Cole Pratt Galleries in New Orleans and Gregg Irby Fine Art in Atlanta. Durand feels that painting is the result of collaboration between the outer world and the mind. He further contends working with the materials of painting contributes to the exploration of the mysteries of human perception. Jim Seale, whose paintings are influenced by the subtle colors, shapes and textures of the Mississippi Delta, is currently pursuing a career as a fulltime studio artist after an extensive period of being involved in applied art fields. A BFA in Commercial Design and an MFA in Advertising Design from Syracuse University provided him with the opportunities to be an art director for advertising agencies in South Louisiana and Memphis, teach graphic design and painting at the college level, and serve as the director of the Fine Arts Division with the John Richard Companies where he originated the Grand Boulevard Collection. His paintings are included in the Horchow and Neiman-Marcus catalogs.
Trevor Simpson is a 2003 graduate of Delta State with a BFA in painting and recently received his MFA from the Memphis College of Art. While there, he was a graduate assistant and an instructor in the summer arts program and has been actively exhibiting since his graduation date. Simpson's work in this show is multi-layered imagery comprised chiefly of relief printmaking, drawing and painting. The layering correlates with his underlying ideas about human interconnectivity as well as the cross-referential information found in our science, history, literature, mythology, religion, and personal narratives. Simpson urges, "I invite the viewer to become interlaced with my ideas, my expression, and myself…leaving an imprint, an impression on the viewer."
Robin Whitfield received her BFA in 1996 and continues to study with her professor Sammy Britt. She is listed in the Mississippi Arts Commission Artists' Roster as a painter and teacher of naturalist studies through the arts and is a professional painter who studies the seasons, weather, plants, animals and geology of Mississippi, working plein-air in watercolor and other media. She currently is a Core Arts instructor for Communities in Schools of Greenwood-Leflore, Inc. Whitfield emphasizes, "Painting is a discipline that feeds my curiosity, sharpens my senses, and deepens my awareness of life—I hope my work reflects a fraction of the beauty I experience."
Gallery hours are 8 a.m. – 8:30 p.m., Monday through Thursday and 8 a.m. – 4 p.m. on Friday. Five Painters will run through Nov. 9. For more information, please contact the Art Department at (662) 846-4720.