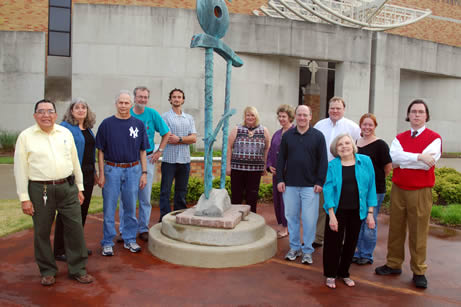 Delta State contributors are (left to right) Ben Burgos, Patricia Roberts, Jim Tomek, Bill Hays, Cetin Oguz (cover designer), Renelda Owen, Yvonne Tomek, Stephen King, Don Allan Mitchell, Dorothy Shawhan, Gabriel Scala, and Clint Tibbs. Not pictured: Susan Allen Ford, John Ford, Jack Phillips, Terry Everett, and Jeff Smithpeters.
On April 30, at the Bologna Performing Arts Center, the Delta State University Division of Languages and Literature celebrated the publication of the 22nd edition of "Tapestry," co-edited by Don Allan Mitchell and Gabriel Scala.
Historically, "Tapestry" has been a magazine of fiction, poetry and essays that features writing from authors living in the Mississippi Delta who have ties to Delta State University. Now, "Tapestry" has expanded its scope to include writers from outside the Delta State service area. The current issue features writers from Jonesboro, Arkansas, New Orleans, and Kentucky.