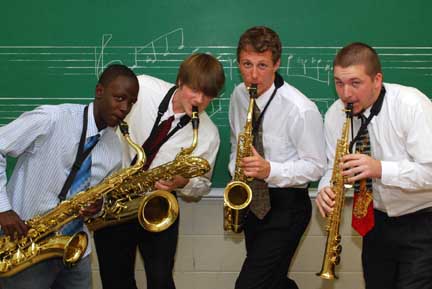 The Delta State University Department of Music will present the Woodwind Chamber Ensembles recital Thursday, Nov.5, at 7:30 p.m.in the Recital Hall of the Bologna Performing Arts Center.
Groups performing include the Flute Ensemble, Woodwind Quintet, and Saxophone Quartet.
The Flute Ensemble, under the direction of Dr. Shelley Collins, assistant professor of music at Delta State, will perform works from the Baroque era, including J. S. Bach's "Little Fugue in G minor." The students will also perform "Highlights from the Sound of Music."
Students in the Flute Ensemble include Jessica Egdorf of Hernando, JJ Hatfield of Boonville, Katie Reaves of Ripley, Jill Reece of Grenada, Lindsay Richardson of Cleveland, Robyn Rouse of Gulfport, Tiffany Smith of Cleveland, Christi Sweeting of Southaven, and Jeanna Wilkes of Hernando.
The Woodwind Quintet was formed this fall and is comprised of the section leaders from the Delta State Wind Ensemble. Members of the quintet include Hatfield, flute, of Boonville; Jessica Flowers, oboe, of Forrest City, Ark.; Russell Cardwell, clarinet, of Memphis, Tenn.; Virginia McDaniel, horn, of Gulfport; and Sarah Green, bassoon, of Vicksburg. The quintet is under the direction of Dr. Collins and will perform works by Haydn and Farkas.
The Saxophone Quartet, under the direction of Dr. Bret Pimentel, professor of music at Delta State, will perform a transcription of "Contrapunctus I" from J. S. Bach's "Art of the Fugue," "Making the Change" by jazz composer Lennie Niehaus, and "Petit Quatour" by Jean Françaix.
Members of the Saxophone Quartet are Steven Hugley of Vicksburg, Will Bryer of Southaven, Rondell Evans of Vicksburg, and Austin White of Vicksburg.
The Saxophone Quartet will be competing the following day at the Music Teachers' National Association Chamber Music Performance Competition in Hattiesburg.
This concert is free and open to the public. For more information, please call the Music Department at (662) 846-4615.