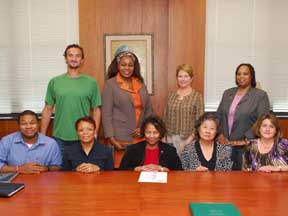 Diversity Advisory Committee seated, from left: Davlon Miller, Arlene Story Sanders, Georgene Clark (chair), Frieda Quon, Vicki Bingham, (standing, from left) Cetin Oguz, Paulette Meikle, Maud Kuykendall, Deborah Moore. Not pictured: Carla Johnson, David Dallas, Nethel Hector, Gregory Hudson and Myrtis Tabb
Delta State University will celebrate its diversity by commemorating the 40th anniversary of a sit-in demonstration held March 10, 1969, on thecampus with a program entitled "Catalysts for Change:Understanding Diversity at Delta State" Tuesday, Oct. 27, at 7 p.m., in the Jacob Conference Center of Ewing Hall.
The highlight of the program will be a panel discussion featuring participants from the 1969 sit-in.
Panelists include Beverly Perkins, Jennifer Buckner, Maggie Crawford, and Bill Pennington.
Moderator for the panel will be Arlene Sanders, professor of political science at Delta State. The focus of the panel discussion will be the events that led up to the sit-in demonstration, and the demonstration itself.
A group of 52 Delta State students staged a sit-in demonstration in front of the President's office to protest the disregard of a list of demands previously presented to the administration.
The students were arrested and carried to Parchman State Penitentiary. Their actions proved to be a turning point in race relations at Delta State, signaling the beginning of change.
Sponsored by the Delta State University Diversity Advisory Committee, the program is intended to celebrate the courage and conviction of those former students who became "catalysts for change" at Delta State.
The event is free and open to the public.