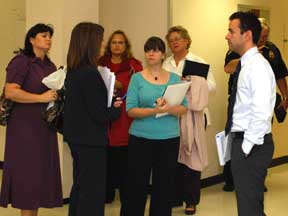 Delta State staff and Teach for America committee members tour the H.L. Nowell Union. Pictured are: (from left) Leigh Korb, Delta State Coordinator of Executive Services; Dr. Michelle Roberts, Delta State Vice President for University Relations; Beverly Fratesi, Delta State Chief Information Officer, Melissa Moore with Teach for America; Leigh Smith, Coordinator of Delta State Calendar and Facilities; Tim Hughes with Teach for America, and Lynn Buford, Chief of the Delta State Police Department.
Teach For America officials toured the Delta State University campus on Friday, October 9, before visiting downtown Cleveland that evening for Octoberfest activities. Tim Hughes, Senior Managing Director of the Mississippi Delta Institute, Carly Pass, Director of Institute Operations, Michelle Gieg, Managing Director of Institute Program and Design, and Melissa Moore, Senior Director of National Institute Operations visited the area to gather information for the first Mississippi Delta teacher training institute to be held at Delta State University in June 2010.
The Delta institute will be the eighth Teach For America training location and the first in a rural area, joining Atlanta, Chicago, Houston, Los Angeles, New York City, Philadelphia, and Phoenix. Teach For America is the national corps of top recent college graduates who commit to teach for at least two years in urban and rural public schools and become lifelong leaders in expanding educational opportunity.
"Our visit to the Delta to begin planning our summer training institute was amazing," said Hughes. "Throughout each step of our planning process, we have been met with enthusiasm, generosity, and a true commitment to provide academic opportunities to the students of the Delta. We feel very fortunate to have the opportunity to partner with school districts and Delta State to make our program a success for students."
"We could not have asked for a better university partnership than Delta State. The staff at the university far surpassed my expectations. It was immediately obvious how much time and thought the staff put into our first visit to the university – we immediately felt part of the campus community," Hughes added. "One of the things that really struck me during our visit to the Delta was the spirit of community everywhere we went. It was clear to me that this is a place where individuals matter, and where people go out of their way to interact and connect with you, and to make sure that you feel welcomed."
Teach For America's institute prepares corps members to be effective teachers while they work under the close supervision of veteran educators and Teach For America staff to measurably increase the academic performance of students in summer school classrooms. During their institute training, corps members complete interactive courses and clinics to build knowledge, deepen skills, and apply their learning in the classroom. Corps members attending the Delta institute will teach in summer school programs across at least 14 area school districts while living at and attending courses at Delta State University.
"Teach For America represents an opportunity to bring some of the best and brightest young people from around the country to instruct our boys and girls, and in turn, a chance to revitalize the economy in the Delta," Commissioner of Higher Education Hank Bounds said. "By bringing more corps members to this critical region of our state, we can improve student achievement, ease the teacher shortage, and attract other innovative leaders to the area."
Dr. Michelle Roberts, Vice President for University Relations at Delta State, is serving as the campus coordinator for Teach for America's Summer Institute. "I had an opportunity to visit the Los Angeles Institute this summer, and I was amazed at what the Teach for America program has to offer its corp members and the students they serve. We are so proud that Delta State was selected as the first rural site, and we intend to serve as a model for all of the other sites. We have a great campus planning team, which includes a representative from the community, that is determined to do whatever it takes to showcase Delta State and our community to the rest of the world. We were excited to meet our Teach for America colleagues this week and look forward to a successful partnership. I think their commitment to becoming a part of our community was evident by their desire to participate in the Octoberfest activities despite the rain. They seemed to love meeting all of the community people and really enjoyed feasting on all of the wonderful BBQ. It was a great start to what we hope is a long-term partnership."