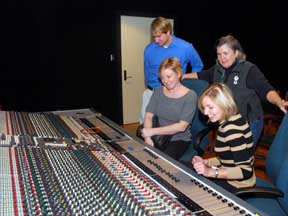 Natalie Chandler (seated, left), director of Legislative Services and Governmental Relations, and Leah Rupp Smith, director of Communications, both with Mississippi Institutions of Higher Learning sit at the control panel in Studio A of the Delta Music Institute as Chris Gaines (standing left), of Delta State Admissions and Recruiting, and Tricia Walker, director of Delta Music Institute, look on.
Chandler and Smith were taken on a tour of Delta State University, Monday, Oct. 19, by Gaines and Michael Gann, director of Communications and Marketing at Delta State. Their tour included a driving tour of the campus with stops at the Aquatics Center, the Fitness Center and the Dorgan Center. The tour also included stops at the Robert E. Smith School of Nursing, the Commercial Aviation offices and hangers at the Cleveland Municipal Airport, the Boo Ferriss Museum, the Geospatial Information Technology Center, the Bologna Performing Arts Center and the Delta Music Institute.
Delta State University was the first stop for Chandler and Smith on a two-week tour of the state universities governed by the Institutions of Higher Learning.