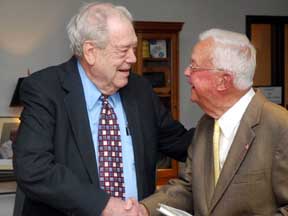 Dr. John C. Merrill (at left), journalism educator, author and alumnus of Delta State University, presented a signed copy of his book "
Legacy of Wisdom: Great Thinkers and Journalism" to
former Mississippi Rep. Charles W. (Charlie) Capps, Jr., during a presentation at Delta State University's Capps Archives and Museum.
Merrill donated the awards he has earned during his journalism career and his 33 published volumes to the Delta State Archives and Museum. Capps accepted the gifts on behalf of the museum named in his honor.
Dr. Merrill, a professor emeritus at the University of Missouri Journalism School, earned his undergraduate degree in English at Delta State, followed by master's degrees in journalism from Louisiana State University and philosophy from the University of Missouri, and a Ph.D. in mass communication from the University of Iowa.
Merrill and Capps are 1942 graduates of Cleveland High School.
The event was sponsored by the Delta State Division of Languages and Literature, the Delta State Alumni Association, and the Delta State Archives and Museum.