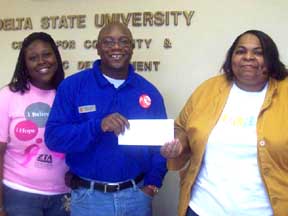 From left, Kimberly Pascoe, Andre Harris and Alfreda Cowins
Cleveland Walgreens Manager Andre Harris recently met with Alfreda Cowins, BEEP, Program Coordinator, and Kimberly Pascoe, AmeriCorps*VISTA Member from the Delta State University Center for Community and Economic Development's Breast Education and Early-detection Project-BEEP, to discuss the work and mission of the organization.
After the meeting, Harris pledged a minimum donation of $1,000 to pay for mammograms for local women through the BEEP program. "With so many opportunities to give back to the people and communities we serve, monetary donations are one of the most basics ways to show we care," stated Harris.
All Walgreens employees will wear pink shirts and blue jeans every Friday to highlight breast cancer awareness. Walgreens is committed to the city of Cleveland through education and healthcare.
"Our new slogan is 'There is a Way,' through Walgreens there is a way for a cure," stated Harris. "When it comes to community outreach, Walgreens

'

efforts revolve around access to health services and providing education."
"I am very excited about the pledge and it is very important to know that Walgreens is concerned about our community's healthcare," stated Cowins. "BEEP has partnered with Walgreens and will be setting up booths to distribute breast health information at several healthcare events they will be sponsoring throughout the year."
BEEP provides breast health educational workshops to the general public. Women who are 40 or older, uninsured or underinsured can receive free clinical breast examinations, free mammograms and transportation scholarships if they meet the eligibility criteria for the program.
Kimberly Pascoe, AmeriCorps*VISTA member stated "I'm very pleased to have Walgreens as a partner with BEEP. This is a great help to our program to help ensure another woman another day of life."
To learn more about the BEEP Program or to make a donation, you may contact Alfreda Cowins, BEEP Program Coordinator, or Kimberly Pascoe, AmeriCorps*VISTA Member at (662) 846-4008.